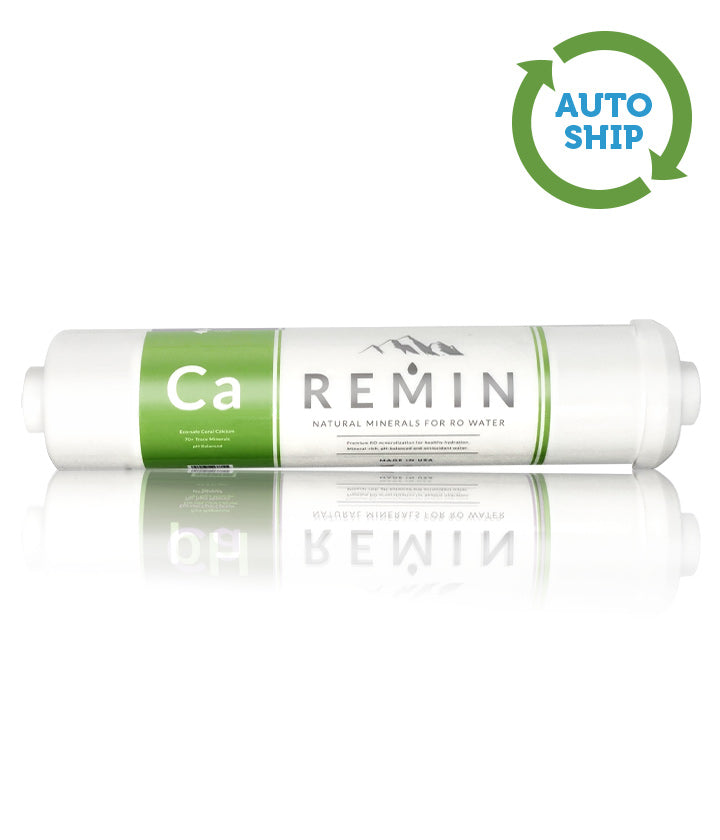 REMIN Ca - RO Remineralization Filter
Balanced RO Remineralization
EcoSafe coral Ca, pure Mg, and 70+ trace minerals
pH balanced + hydrogen antioxidants
Universal inline compatibility with all RO systems
Designed for those who want minerals back in their water, but not the higher pH. Our REMIN Ca has more of our special coral calcium and other trace elements, but is lower on the pH and antioxidant levels. If you want higher pH and more antioxidants, the
REMIN pH
is your answer.
Reverse Osmosis Mineralization Features & Benefits
| | |
| --- | --- |
| Alkaline: 7.5 to 8.5 pH | Filter Life: 12 months @ 2 gallon/day |
| Antioxidants: -100 to -300 ORP, 0.3+ ppm H2 | Size: 12"L x 2.5" D |
| Minerals: Coral Calcium, pure Magnesium, Potassium, Sodium | Included: REMIN and clips |
| Cost: Only $0.04/liter | Made in USA: BPA Free, toxin free |
Premium mineral formula made for consumption:
Other remineralization cartridges are made with cheap ingredients like calcite. They add some very low levels of a few minerals back into the water, but they aren't formulated with you in mind. We drink Vitev water, our families do as well, so we care about the ingredients we use.
Proprietary:
It took us several years of testing and failing to figure out what formulas worked in various situations. Our REMIN Ca uses a customized blend of Eco-Safe Coral Calcium. The only one in the world, harvested from the Caribbean and containing 70+ other trace elements including potassium and natural sodium. 99.9% pure Magnesium to balance the calcium and provide pH/alkaline, antioxidant and ionized benefits. Infrared and tourmaline ceramics soften the water and improve the way it tastes and feels.
Safe and toxin-free:
Made in the US (Idaho to be exact). Minerals soak tested to meet the strict California Prop 65 standards for safety. The housing is made from recycled BPA-free plastic.
Slow release formula:
You won't find longer lasting performance. Only needs replacing every 12 months with an average family's use. All ingredients are correctly proportioned so you get a consistent, quality glass every time.
Compatible with any reverse osmosis system:
The preferred setup is directly after the membrane, but can also be installed after the tank. Installation takes about 5 minutes. If you aren't sure, contact us and we can walk you through it. Check out the installation tab for diagrams.
---
SAFE and PURE:
As we said above, we drink Vitev water ourselves and we care about what goes into our bodies. Below are two lab reports. The first is a list of our Coral Calcium's composition to show the wide range of trace and macro mineral benefits provided. The second is a soak test we had done by Pace Laboratories. They put our mineral blend into a beaker, filled it with distilled water and then let it soak for 24 hours. Afterwards they tested that water to ensure it was toxin free and would pass the stringent California Prop 65 requirements. We annotated those results with a more common parts per million number. The water passed with flying colors.
Coral Calcium Certificate of Analysis
Pace Analytical Report
---
What makes the REMIN different from others?
First, our ingredients. Most other products categorized as remineralization use a very cheap form of calcium called calcite. Calcite was designed for use in commercial and industrial applications to ensure low pH water would not degrade plumbing. It does increase the total dissolved solids in the water and the alkaline level, but it's not a form we should be consuming. If you have issues with low pH water in your home, then calcite is a great solution. But it's not designed for your body's plumbing.
Secondly, we designed the REMIN to also improve the antioxidant properties as well as taste and feel of the water. You notice the taste improvement immediately, and shortly after will experience how hydrating the water is because of its antioxidant and electrical properties. You won't feel full and you will probably crave more initially because your body is finally experiencing true hydration. The REMIN isn't a one trick pony. It provides comprehensive hydration.
Why is the water cloudy?
Initially, you might see some mineral sediment in the glass. That means you need to flush more water through the REMIN. After the sediment passes, the water can still be slightly cloudy, but you'll notice it's because of bubbles, not sediment. The bubbles are the result of the ionization process and are a sign of a very potent reaction taking place between the minerals and the water. Drink the bubbles, they are great for you. Over time this reaction will slow down a bit and the cloudiness will decrease as well. You might still see it with the first glass of the day, but with a lot of use the reaction will settle in.
---
How do I install the REMIN?
Our preferred recommendation is to place the REMIN just after the membrane and before the tank. You'll need a Tee between the tank and REMIN to ensure water doesn't flow back through it in the wrong direction as it heads to the faucet. The longer the water is in contact with the minerals, the better the performance. The REMIN comes with ¼" quick connects on each end, so you simply cut the tubing and plug it into each end. Clips are included to either mount it HORIZONTALLY on the inside of the cabinet or on top of the RO.
If access to that tubing is not possible, then you can also install it directly after the tank or final polishing filter. Again, splice it into the tubing and mount it HORIZONTALLY.
Check out the
Support
tab for diagrams.
---
What TDS can I expect?
This will vary based on where the REMIN is installed, how fast the water flows through and how much it has been used. We utilize a slow release form of the minerals, but you will still see some decline over time. The REMIN is not to be thought of as a mineral supplement. We are only making the water easier to digest and better and hydrating. On average you will see the TDS range from 30 to 60 ppm.
---
How We Compare
| | | |
| --- | --- | --- |
| | | |
| Drinking water pH | 7.5 to 8.5 pH | 6.5 to 8.0 pH |
| ORP | -100 to -300 | +500 to +100 (all oxidizers) |
| Ionized / Antioxidant | Yes | No |
| H2 Concentration | 0.3+ ppm | None |
| Uses Harmful Calcite / Corosex | No | Yes |
| Dimensions | 12" x2.5" | 10"x2.5" |
| Filter Life | 12 months | 3-6 months |
| Price | $119 | $25-$60 |
| Cost to user per liter | $0.04 | $0.04 |
| Made in USA | Yes | Maybe |
Does the Fresh for Life filter subscription make sense for me?
Over half of our loyal customers have already signed up as Fresh for Life subscribers, and for good reason! Save on filters, get free shipping, and never worry about when to order your next Fresh filter.
Key Benefits:
Convenience:
Never forget about a filter change again. We keep track, remind you before every shipment, and deliver them at the right time.
Savings:
Save 20% on each replacement filter with free US shipping every time.
Lifetime Warranty:
Your warranty is extended indefinitely for the lifetime of your membership. Normal conditions apply.
Risk-free:
No contract to sign and absolutely no obligations. Cancel or adjust a subscription at any time.
---
Why Vitev alkaline water?
Water is essential to all life. We use it to stay hydrated, but can it do more for us? Yes! There are proven scientific benefits to alkaline, antioxidant water like that produced by Vitev natural ionizers. Ask us about the science behind Vitev water, or
learn more here
.
↑ back to top
Support
Download the
REMIN Guide
Will it work with my RO?
The short answer is YES! The REMIN is compatible with any RO system, it's just a matter of where it will be positioned and spliced in. If your RO is one with proprietary filters, hidden connections and tubing or just generally hard to access and make any adjustments to (this style is becoming much more popular), then you'll place the REMIN on the tubing that connects to the faucet. Use the included single clip and mount the REMIN horizontally.
If your RO allows access to tubing, the membrane, filters, etc then you can probably connect the REMIN prior to the tank. You'll place it after the membrane and before the valve that splits water to the tank and faucet. Use the included double clip and mount the REMIN horizontally on top of the membrane.
Filter
Well I think is doing ok the water taste better ..
Major savings over bottled water!
Due to our public water supple having high sediments (TDH) and chlorine smell, we have an existing Reverse Osmosis System with an added on Pre-Carbon filter. Overs the years, the water quality from our RO System declined to the point that we started buying bottled water. Recently, after troubleshooting our RO System, we realized that we will need to change out filter cartridges in about 2/3rds of their expected use time. Our RO System water was back to the quality we were used to when the system was new but we were now "hooked" to the taste of our bottled water containing needed minerals. We decided that adding the REMIN Ca - RO Remineralization Filter to our RO System was worth a try but not knowing if all five members of our household would like the new taste? Before the simple installation of the Remineralization Filter, I saved some "plain" RO water for an "after taste test". Initial sediment discharge from the new REMIN Ca - RO Filter was minimal (no cloudy water after discharging the first 2-3 gallons). The "after taste test" resulted in the entire family liking the new mineralized water over the "plain" RO water. Now we will save $$$$ on bottled water! I may not even have to add extra electrolytes to my water bottle when on lengthy, summer bicycle rides!
Great FIlter
I bought a REMIN Ca filter because my RO water tasted bad.
This filter added the minerals back to the the water that the RO membrane took, and the taste is now like water should taste :)
Incredible customer support!! Very Knowledgeable.
Very pleased with the purchase. I will continue to purchase this filter.
Great Service
Customer service is there to answer all of your questions regarding their products and any setup/install concerns you have. After a week and half of being installed, the filter itself is still breaking in as some minerals appear to sometimes cloud the water. But it is getting less and less and the taste is good as well!
Remin Ca Cartridge - Great customer service
After researching the contents of RO Remineralization Cartridges we decided to go with the Vitev Cartridge to be installed with our new RO system. Our installer was happy to do so. The instructions were clear and we received all the parts however the cartridge was a dud. The water would only trickle through the cartridge. We called customer service and explained the situation. They kindly called our installer to inquire and agreed that it must be the cartridge and within days we received a replacement. This cartridge worked like a charm. I was wondering about the taste after the reviews I read, but I find the taste of the water to be excellent. Throughout this process Jamie from Vitev was in regular communication with us to make sure that everything was working as it should. This was much appreciated. Thank you.
Great Service !!!
We have not had the Plumber install the filter yet . May call if we need support. Thanks so much !
Cheers
Patrick
Taste
Wife & I didn't care for taste & are going to try running it back thru finishing filter.
Hi Steven,
Thank you for your review of the Vitev REMIN Ca. We appreciate your feedback on the mineral cartridge, and we hope you are keeping well-hydrated!
The reaction between the pure RO water and fresh minerals is incredibly efficient with a brand new REMIN cartridge, which can result in strong tastes before the reaction settles down. You may also notice some air pressure from the faucet and even cloudiness in the water early on, given the completely safe yet plentiful concentrations of hydrogen antioxidants in the water with a new cartridge.
This dissipates quickly with usage in the days and weeks following a filter change as the mineralization reaction settles down, and you can help the process along by flushing an extra 1-2 fill-ups of the RO tank. However, we recommend taking advantage of the outstanding mineralization performance by drinking lots of water in the meantime :)
Please check your inbox for a follow-up email from us at contact@vitev.com for further info, and we will do everything we can to help you get the most out of the REMIN going forward.
Vitev Customer Care
Love it ! I feel the difference working with a apec 5 stage basic RO system with this remin it works for me ! Thank u