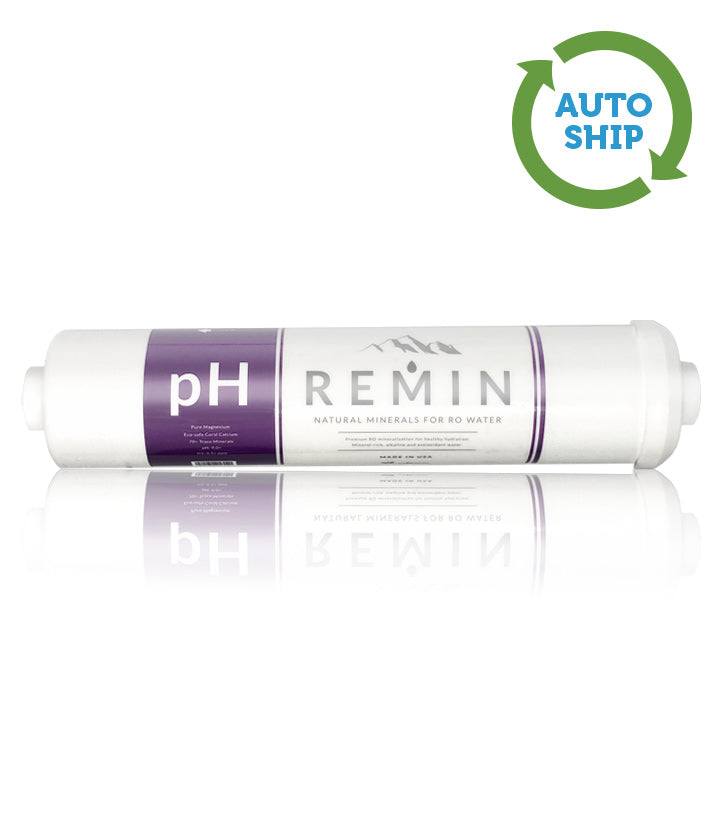 REMIN pH - RO Remineralization Filter
Complete RO Remineralization
Pure Mg, EcoSafe coral Ca, and 70+ trace minerals
Natural alkalinity and hydrogen antioxidants
Universal inline compatibility with all RO systems
Reverse Osmosis Mineralization Features & Benefits
| | |
| --- | --- |
| Alkaline: 8.5 - 9.5+ pH | Cartridge Lifespan: 1 year up to 2 gal/day |
| Antioxidants: -500 ORP, 0.7+ ppm H2 | Size: 12"L x 2.5" D |
| Minerals: Mg, Ca, K, Na & 70+ trace elements | Included: REMIN, User Guide, clips & tubes |
| Cost: Only $0.04/liter | Made in USA: BPA Free, toxin free |

NOTE: If you want less pH but keep all of the other good stuff, the REMIN Ca is your answer.

What's the Problem?
Many people now understand there is more to healthy water than just making it as clean as possible. Reverse osmosis systems provide a very capable and affordable way to remove high levels of the thousands of toxins found in our water. Unfortunately, they also remove the necessary minerals and can be harmful to our bodies over the long-term.
Fortunately, there is now a way to keep the outstanding filtration and put the healthy minerals back in.
Mineralization:
The Vitev Mineral Mix used in the REMIN is formulated especially for harsh, RO water. We don't use powders made from cheap ingredients meant for city water treatment instead of human consumption and which dissolve way too fast. Things like calcite and corosex. Our minerals are designed for a long-lasting slow release and the REMIN uses a blend of the following:
99.9% pure metallic/elemental Magnesium
Adds this vital mineral to the water and also reacts with the water to create the antioxidant/ionizing benefits. (more on this later)
Coral Calcium
The only coral in the world to earn the Eco-Safe certification. It's harvested from the Caribbean where they use an above-the-sea technique (think of it like cutting the grass) and is a composite of 70+ additional trace minerals.
Infrared ceramics and tourmaline
They help soften the surface tension, improve taste and increase drinkability. It's really hard to explain, but when we removed these 2 from the blend, the water just didn't taste or feel as good.
Antioxidant:
This is what really sets the REMIN apart from other post RO mineralizers. Water is perishable, just like food. The sooner you drink the water after it leaves it's natural source the better. Piping it long distances or bottling and shipping allows the water to degrade over time. It's freshness is gone.
Our mineral blend rejuvenates the water through the reaction of the water and the magnesium. This ionizing reaction gives a negative charge to the water (measured as -ORP) and an antioxidant benefit to our body in the form of free electrons and molecular hydrogen. Without this reaction, the water is dead and actually classified as an oxidant within the water treatment industry. Oxidation is what breaks down living organisms, which means we'd rather not consume more of it than necessary.
Hydrating and Better Taste:
You'll notice this right away. RO water can have a stale taste, sometimes even a bit off. The REMIN will make your water taste better as well as anything you use it in. Soups, coffee, teas, etc all have a deeper flavor.
You'll also notice how much easier it is to drink. No more full and sloshy feelings. With our mineral blend, you'll feel fine even if you down an entire glass. It's more hydrating at the cellular level and it helps the body flush toxins much quicker. Good in and bad out.
Safety Matters
We take great care to ensure the ingredients we use are of the highest quality. As we said above, the
coral calcium
is the only one in the world to receive the eco-safe designation. Our other minerals are also super clean as you can see from this
soak test
we had Pace Laboratory conduct. They took our mineral blend and soaked it in water 6 hours. After which they checked for a long list of toxins under the most stringent California Prop-65 standards.
You can be confident nothing harmful is going back into your water.
How We Compare
| | | |
| --- | --- | --- |
| | | |
| Drinking water pH | 9.0 - 10.0 | 6.5 - 8.0 |
| ORP | -300 to -700 | +500 to +100 (all oxidizers) |
| Ionized / Antioxidant | Yes | No |
| H2 Concentration | 0.5+ ppm | None |
| Uses Harmful Calcite / Corosex | No | Yes |
| Dimensions | 12" x2.5" | 10"x2.5" |
| Filter Life | 12 months | 3-6 months |
| Price | $119 | $25-$60 |
| Cost to user per liter | $0.04 | $0.04 |
| Made in USA | Yes | Maybe |
Does the Fresh for Life filter subscription make sense for me?
Over half of our loyal customers have already signed up as Fresh for Life subscribers, and for good reason! Save on filters, get free shipping, and never worry about when to order your next Fresh filter.
Key Benefits:
Convenience:
Never forget about a filter change again. We keep track, remind you before every shipment, and deliver them at the right time.
Savings:
Save 20% on each replacement filter with free US shipping every time.
Lifetime Warranty:
Your warranty is extended indefinitely for the lifetime of your membership. Normal conditions apply.
Risk-free:
No contract to sign and absolutely no obligations. Cancel or adjust a subscription at any time.
---
Why Vitev alkaline water?
Water is essential to all life. We use it to stay hydrated, but can it do more for us? Yes! There are proven scientific benefits to alkaline, antioxidant water like that produced by Vitev natural ionizers. Ask us about the science behind Vitev water, or
learn more here
.
↑ back to top
Support
Download the
REMIN Guide
Will it work with my RO?
The short answer is YES! The REMIN is compatible with any RO system, it's just a matter of where it will be positioned and spliced in. If your RO is one with proprietary filters, hidden connections and tubing or just generally hard to access and make any adjustments to (this style is becoming much more popular), then you'll place the REMIN on the tubing that connects to the faucet. Use the included single clip and mount the REMIN horizontally.
If your RO allows access to tubing, the membrane, filters, etc then you can probably connect the REMIN prior to the tank. You'll place it after the membrane and before the valve that splits water to the tank and faucet. Use the included double clip and mount the REMIN horizontally on top of the membrane.
Works Very Well, Got Rid Of Headaches
I started running a few miles everyday after my dog passed away to cope and I started getting bad headaches later in the day after my runs.
Days I didn't run no headaches.
I figured it was minerals so I tried a mineral drop liquid which helped but not enough, then I found this and after about 3 days the headaches cleared.
I've tried many mineral filters in the past but none have worked quite like this one & I used to own a Coral Reef Aquarium, primarily Sps (Hard) corals which require perfect water minerals and all.
This filter is expensive at first but cheaper then alternatives.
One strange thing I noticed is negative people in my day to day seem to avoid me when before they came at me like magnets, at work ect
and this filter boasts about the benefits of negative ions, maybe my imagination but to much of a coincidence to be imo
I highly recommend this filter as someone with experience in the area.
Don't change a thing Vitev ! :)
Customer service is outstanding...
After I received the filter I was on the fence a bit (as a result of the current system I have), but the CS team was SUPER patient, understanding, and knowledgeable.
I'll be a customer (and raving fan) for life.
Great filter
Great filter that was easy to install! We're still getting some air in the lines but other than that, it's awesome.
Can't live without it
The best on the market you will not find better anywhere else everything else is junk this is number one I've been using this for years I would not ask for anything else. I've tried the others they don't last it makes the water taste funny there's something terrible with the other brands.
Great Company
Vitev has fabulous customer service and their RO Remin filters are the best! Thank you.
Love the Remin Water!
I love our RO system as I know its a great option for purifying contaminants. I live in the southwest where forest fires have been treated with chemicals from helicopters, and thise chemicals have shown up in our wells. So purification is paramount. But I've also been concerned about the demineralization. After some research I found that a remineralization filter could add back healthful minerals and I felt Remin was of the highest quality.
So far I've had the filter about a month and I couldn't be more pleased. At first the cloudiness and air buildup was a bit concerning, but a quick call to Vitev eased my mind as I was informed that this was evidence of the filter working well, and that the water was very healthy to drink. After a couple weeks the water has gotten less airy and clearer. The taste is great and I feel like the water is giving us the minerals we need. Love it!
Excess bubbling
Seams to be quite a bit of air in the line as well as less water pressure at the tap. Let me know if I did something wrong.
Thank you for your feedback on the new REMIN cartridge, which is always a good idea if you have any questions or concerns about your water. It sounds like you are experiencing the expected initial reaction with your remineralized water, and we hope to provide some reassurance on your RO + REMIN setup. We will follow up with you by email today with more info.
Improved the taste and mineralization drastically!
We had an existing 7-stage RO system installed for our drinking water, and my wife refused to drink the water becuase she disliked the taste. After receiving some very helpful feedback from Vitev's customer service team, I ended up removing stages 5, 6, and 7 (post-carbon, alkaline, and UV sterilization), and replacing them with the Vitev pH filter. The existing alkaline filter was one of the cheaper ones that need replaced every 6 months.
Here's the breakdown on our water:
- We have a municipal water supply with a TDS of ~206 ppm
- Our 7-stage RO system gave us a TDS of ~16 ppm (but with a very poor, plastic-like taste)
- Our RO system with the Vitev filter now gives us a TDS of ~40 ppm (which is not only a good level of hardness for drinking water, but is also great for espresso machines... improved taste and minimally corrosive)
I haven't done any lab tests on the water yet, but hopefully will do so in the future to gain an understanding on our water's exact mineral content levels.
Additionally, my wife's parents, who are very picky about their water, tried our water as well, and they loved it.
Vitev's customer service is second to none as well; very responsive and helpful with my questions.
When my wife refused to drink our water, I was contemplating purchasing a much more robust system that would have cost us ~$1000, but thankfully I found Vitev and decided to use this filter as a last ditch effort before biting the bullet on a new system. This filter saved me lots of money!
Still not sure I have installed correctly
Hi Joseph,
Thank you for your review of the Vitev REMIN cartridge for RO mineralization. Please feel free to follow up with us directly at contact@vitev.com regarding your setup, and we can give a thumbs-up or provide suggestions for improvement with one of the REMIN's easy installation options.