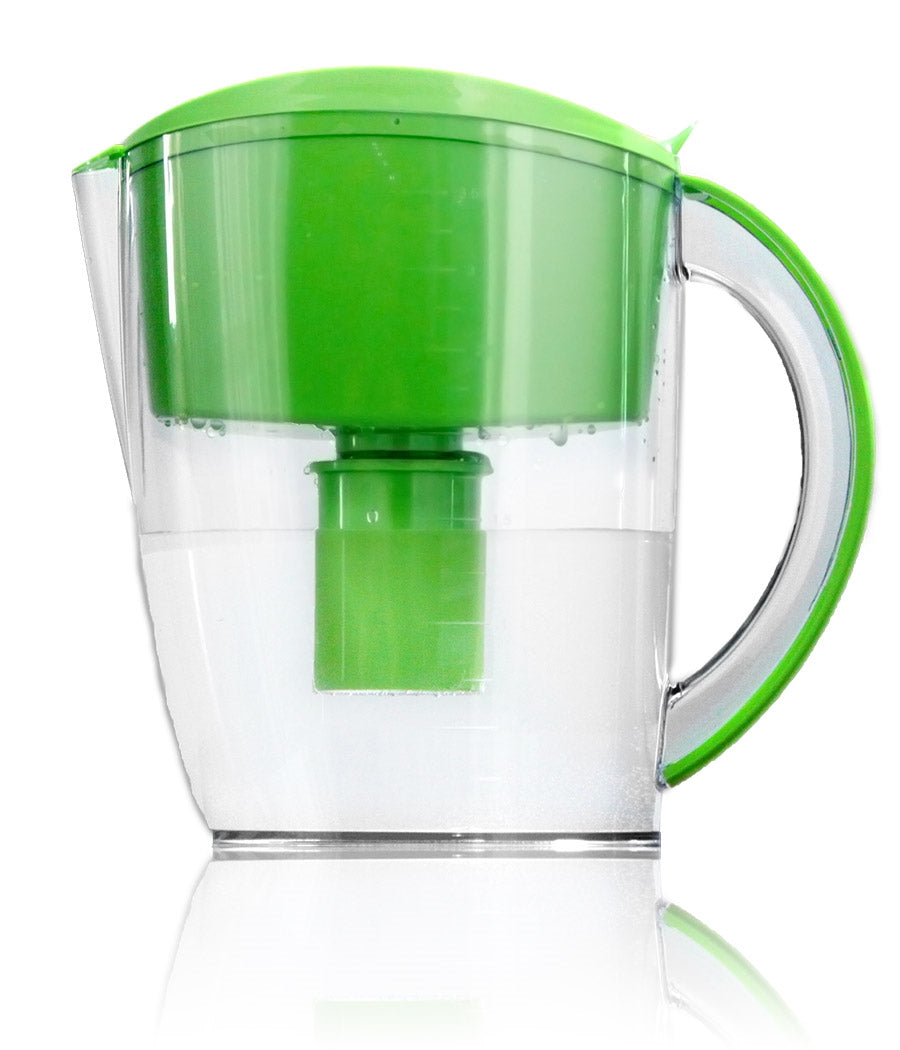 Vitev Alkaline Pitcher (Family Size)
Premium Minerals
Alkaline
Antioxidants
Great Tasting

---
Special Offer
Want even more? Upgrade your pitcher to our
Subscribe & Save Starter Bundle
for
only $69.99
.
What's Included:
1 x Vitev Premium Alkaline Pitcher - includes 1 filter (valued at $59.99)

2 x extra filters (valued at $19.95 each)
1 x pH drops (valued at $9.99)
FREE shipping (valued at $14.95)
UPGRADE NOW
---
Vitev's premium alkaline water pitcher. It's all in the minerals.
Premium Minerals
– Nearly all water pitchers look the same and have similar construction. What sets Vitev's apart is our mineral formula. We utilize our proprietary mineral recipe to ensure you get a mineral rich, alkaline, antioxidant glass of water with each pour. Handcrafted alkaline water. Premium minerals and premium results.
Alkaline
– Large granular, time-release minerals add magnesium, potassium, and small amounts of natural sodium to complement the calcium found in our tap waters. You get a balanced blend of all 4 alkaline minerals in each glass. The reaction between the water and our mineral formula create pH levels of 9+.
Antioxidant
– Reducing oxidation is vitally important to health. Our mineral filter converts stale, damaging water into fresh, antioxidant water with -ORPs of -300mv or better and adds molecular hydrogen concentrations. You feel the difference in the first glass.
Convenient
– The Family sized pitcher is made for larger volumes and increased use. A large flap on top makes fill ups easy (or you can easily pop off the entire lid) and the large handle make it easy to pour. The reservoir holds 2.5 Liters of water, enough for family meals without having to wait on water. Space saving narrow design helps it fit in the fridge.
Great tasting
– The filter removes chlorine, tastes and odors while the minerals and fresh antioxidants make the water super easy to drink. It really does taste good and will also improve the flavor of coffees, teas and anything else you make with the water.
---
Alkaline Pitcher Features & Benefits
| | |
| --- | --- |
| Alkaline: 9+ pH water | Capacity: 3.5 L (15 cups of 8 oz.) |
| Antioxidants: -200 ORP. 0.3 ppm of H2 | Filter Life: 2 months @ 1 gallon/day |
| Filtration: carbon & ion-exchange resin | Size: 11"H x 11"W x 5"D |
| Electrolytes: Mg, Ca, K, Na | Cost: only $0.11/liter |
| Warranty: 1 year | BPA Free |
---
Big performance, Small Price
Don't spend another dime on expensive electric ionizers or bottled water that builds up wasted bottles & money very quickly. The Vitev Alkaline Family Pitcher provides fresh, clean alkaline water at a fraction of the price.
Easy to install and use, the Family Pitcher works by simply filling the top reservoir with water and letting it filter through the cartridge. Store it in the fridge, on the counter or even on the go. The filter's all-natural minerals immediately make alkaline, antioxidant water.
Over half the body is made of water. Don't miss out on the easiest and best change you can make for better health! Enhanced hydration is only one step away. Even one glass of Vitev water makes a difference. Get started today!
---
How does the Vitev mineral mix work?
From Acidic and Dead to Alkaline and Fresh
Why Vitev alkaline water?
Water is essential to all life. We use it to stay hydrated, but can it do more for us? Yes! There are proven scientific benefits to alkaline, antioxidant water like that produced by Vitev natural ionizers. Ask us about the science behind Vitev water, or
learn more here
.
---
Warranty & Risk-free Trial
It's important to know that the Vitev Family Pitcher is backed by our 100% 1-year warranty. We also offer a 30-day risk free trial. It's never been easier to drink premium alkaline water, and you'll never know what you've been missing without trying!
Awesome resource
I love my vitev pitchers! I've purchased 3 over the years! Clean tasting water at an affordable price!
Great
It's great, the filtered water tastes delicious
So much better and smooth!
We recently put in a reverse osmosis system in our house, and the first thing I noticed was how dead and thick the water tasted. My husband wasn't too keen on allowing me to go back to bottled water companies, so I gave this a try. I noticed immediately how smooth the water tasted in my mouth and how tasty and refreshing it was. We had all stopped drinking water as much as we should the last several weeks and I noticed the kids refilled their glass multiple times during dinner. I love helping a small company continue to grow and I know the quality of these products is very high. Thank you for creating this; I am very satisfied customer!
Vitev Alkaline Pitcher (Family Size)
Ten Years and Counting!
I have been ordering Pitchers from this Company for over 10 years. I have been involved in the Retailing field for more than 50 years. I have never received this level of customer service! Jamie has been an Angel as he helped us get our shipment corrected and our Pitcher delivered. The water has a wonderful taste and has been a Blessing to me. The high ph in the water has allowed me to maintain my weight and lower my blood pressure. Prior to finding Vitev, I was having water delivered from Houston which is over 230 miles away. I thank GOD for this Company and the great products they offer. I also thank GOD for Jamie and the excellent customer service he provided. I will remain a customer for the rest of my Life!
Best purchase I have made lately.
My roommate and I completely love this pitcher. The water is tasty all the time, and we refill our reusable bottles as needed. This is important for us because we are doing our part to reduce our consumption of single use plastic, such as plastic water bottles. I highly encourage other people to get this pitcher: You will save money, and you will help to reduce plastic pollution. Do it for the planet!!!
A great product
This is my second pitcher and I have been drinking this water for years And recommend it highly!