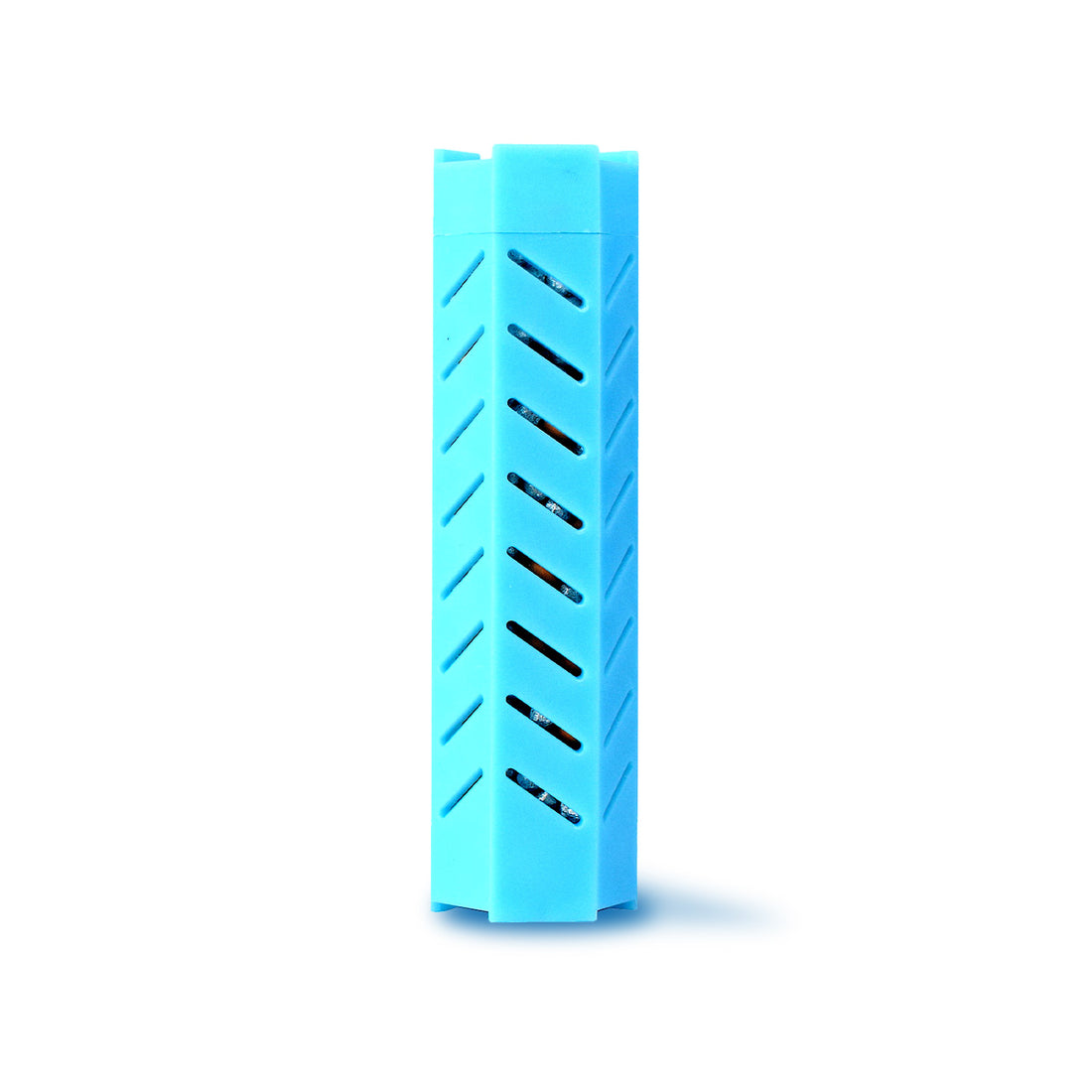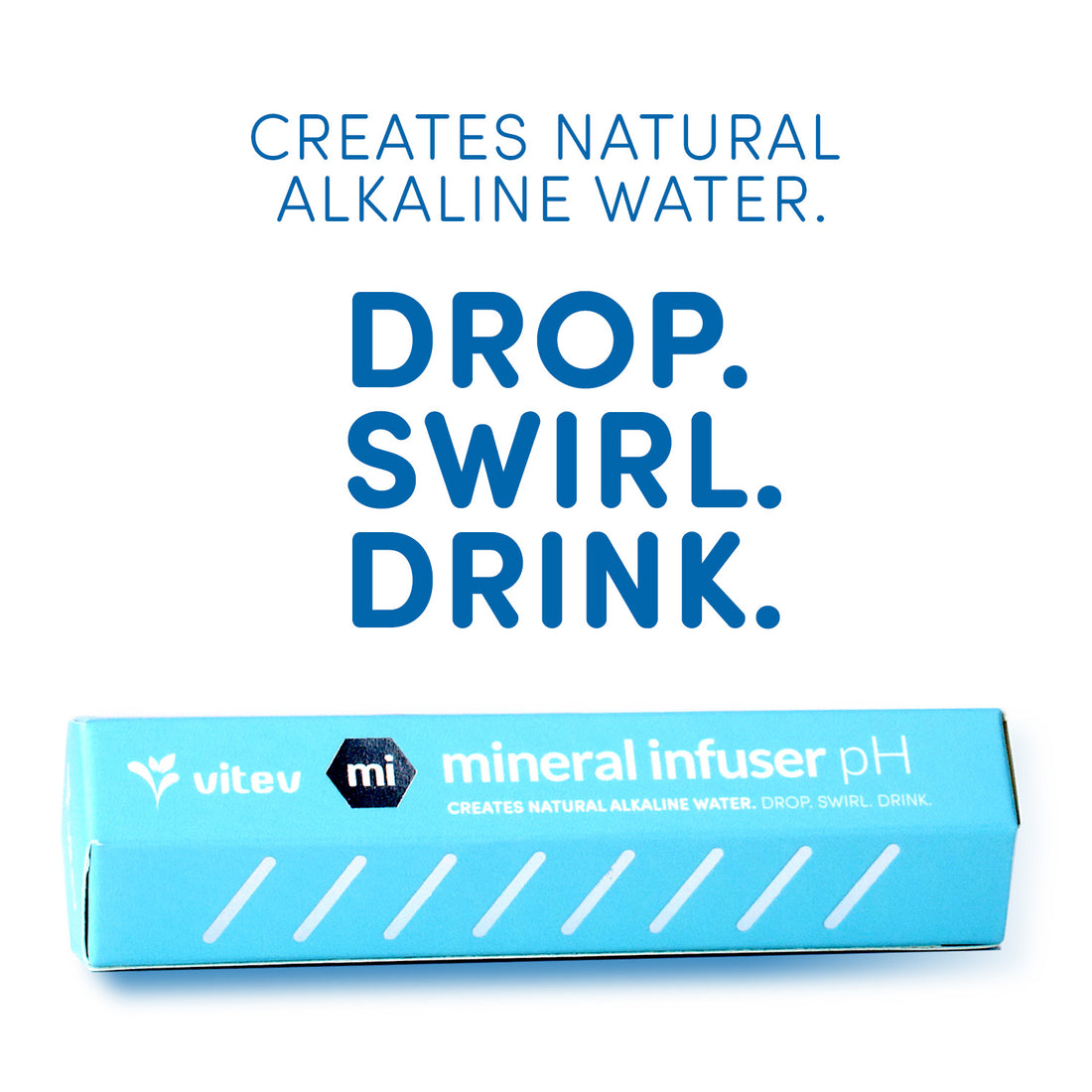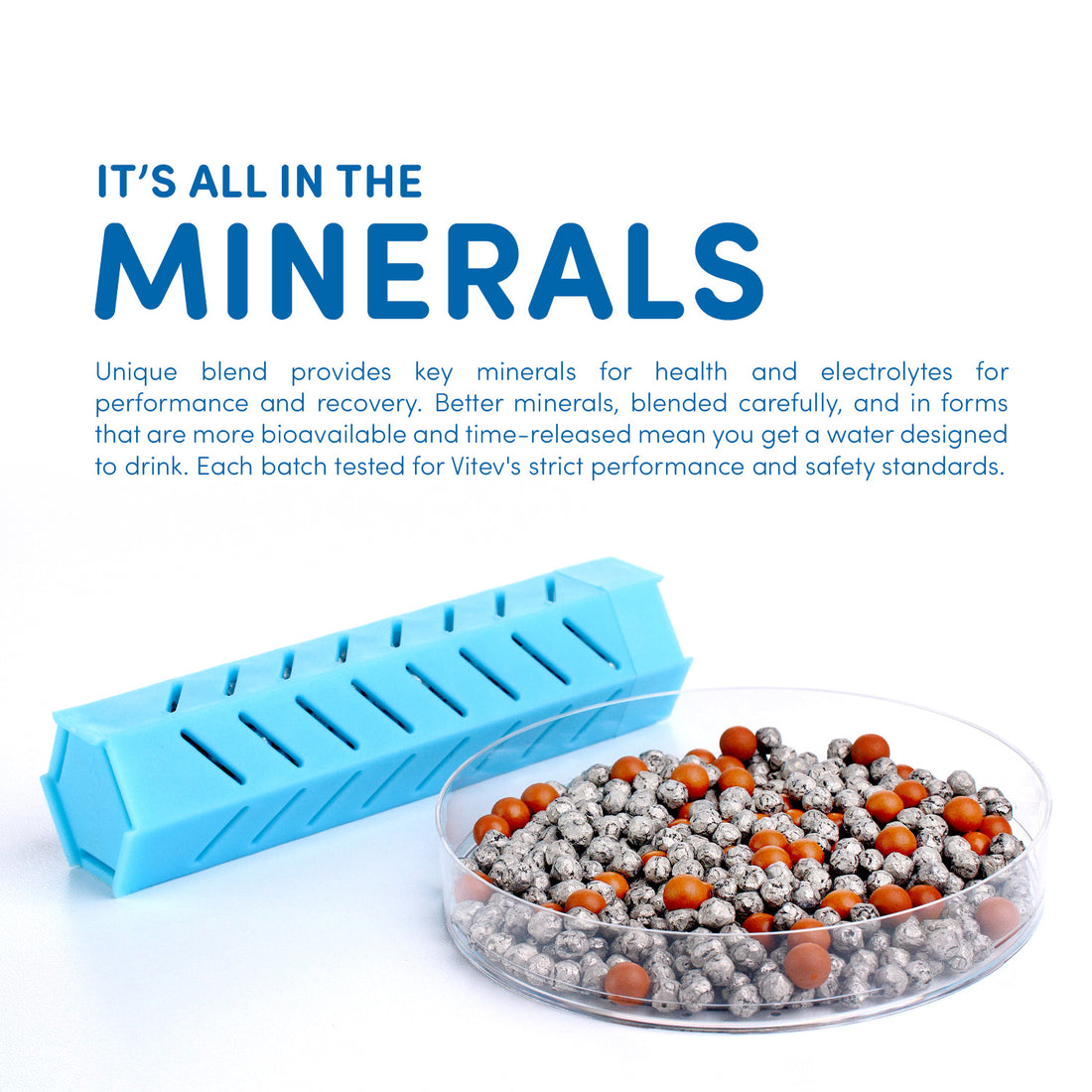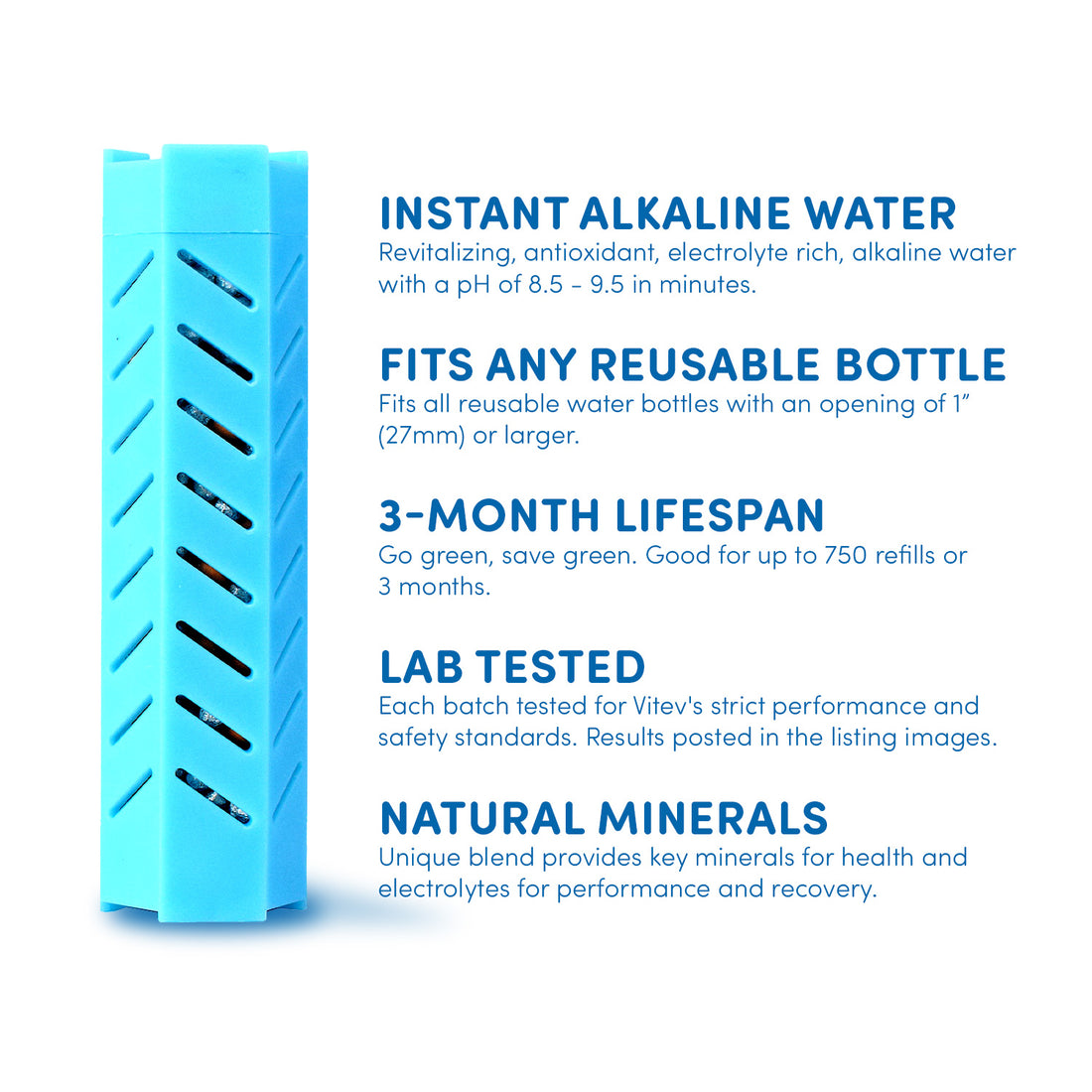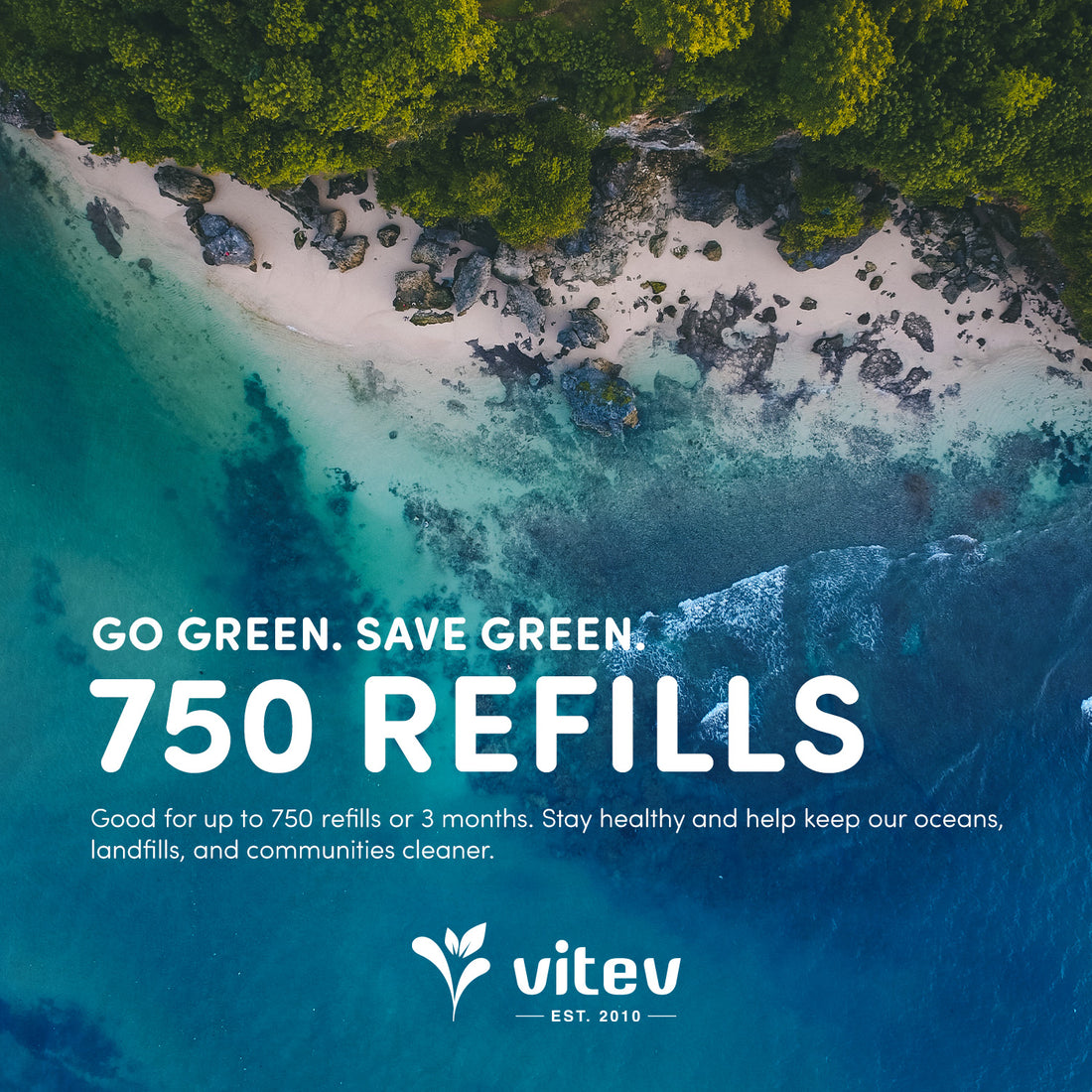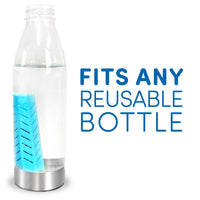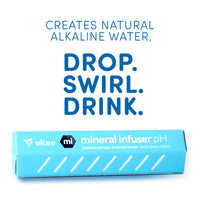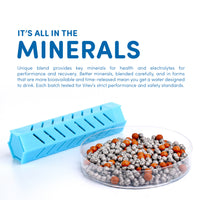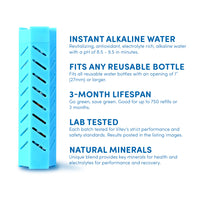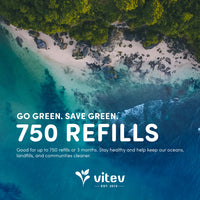 MI - Natural Mineral Infuser Stick
Near instant alkaline water, 8.5 - 9.5 pH in minutes
Adds minerals and hydrogen antioxidants
Fits any reusable bottle

MI (short for Mineral Infuser)
The MI came from a need to maintain hydration and antioxidant benefits while away from home. No need to buy a bottle at the store or fill up a larger container at home to take to work, school or sports. Take it on vacation or toss it in a carry on for work travel.
It's full of our unique blend of healthy natural minerals to provide key electrolytes and is made to fit into your favorite reusable water bottle.
---
How does it work?
Fill your bottle about halfway with water, drop in the MI and then fill the bottle to the top.

Swirl it for a few seconds and it quickly transforms the water into the same pH balancing, alkaline, antioxidant rich water you enjoy at home.

Here's a video to show how quickly that happens. Reagent drops are added to bottled water to test the pH. Initially it registers as a light orange color because its pH is around 4.0. The MI is then dropped in and swirled. You'll see the cloud of purple slowly diffuse out into the water as the pH rapidly improves to around 9.0 closest to the MI's mineral mix and then with a bit more swirling, the entire bottle is purple.


(NOTE - Color changes are for demonstration purposes only, they won't happen in your bottle…but the pH change will!)
---
Not just alkaline…
Our mineral blend rejuvenates the water through the reaction of the water and the magnesium. This ionizing reaction gives a negative charge to the water (measured as -ORP) and an antioxidant benefit to our body in the form of free electrons and molecular hydrogen. Without this reaction, the water is dead and actually classified as an oxidant within the water treatment industry. Oxidation is what breaks down living organisms, which means we'd rather not consume more of it than necessary.

After a few minutes, the MI transforms the water from harmful to helpful.
---
Fits any reusable bottle
The MI will fit any REUSABLE bottle with an opening of at least 1 inch (27mm) in diameter. Aluminum, glass, or plastic…your choice. It will NOT fit the 1 time use bottles (Aquafina, Nestle, etc). It works best with bottles in the 16-24 ounce size because it converts that volume of water quicker. It will do larger containers as well, just takes a bit more time.
---
Lifespan and Safety
Extensive testing gave us about 3 months of daily use. It will gradually slow down in reaction time, so if you're on the last month, you'll need to swirl it a bit more and allow another minute for it to work fully.
This assumes you follow the directions on the packaging and don't leave it submerged longer than it needs to be. Taking it out at night and letting it dry, etc.
With each production, we have Simplelab in Berkeley California do a soak test to ensure the minerals function as they should, but more importantly are free of any toxins. We drink the water as well, so we care! You can find that test
HERE
.
---
UP TO 9.5 pH
Transforms regular water into natural alkaline water in minutes.
FITS ANY BOTTLE
Fits all water bottles with a 1" opening or larger up to 40oz.
REPLACES 750 BOTTLES
Go green, save green. Good for up to 750 refills or 3 months.
POWERFUL ANTIOXIDANT
Fight the aging process with antioxidant-rich alkaline mineral water.
Remin Ro Remineralizer filter
I have used this product for about a year. The water taste great and it hydrates better than any bottled water I've consumed. My son loves this water as well. He drinks more water now than soft drinks of juice. If you want to feel better and actually drink good tasting water. You should get this product. It does what they say it does. Get on the auto resupply program and save some $$, because once you taste the water and see how good you feel, you will want to continue using this product!
MI stick
Hi! Thank you for making the MI infuser stick. I have used your alkaline pitcher for several years now and was looking for an easy way to have alkaline water while traveling, the MI stick was great for that!