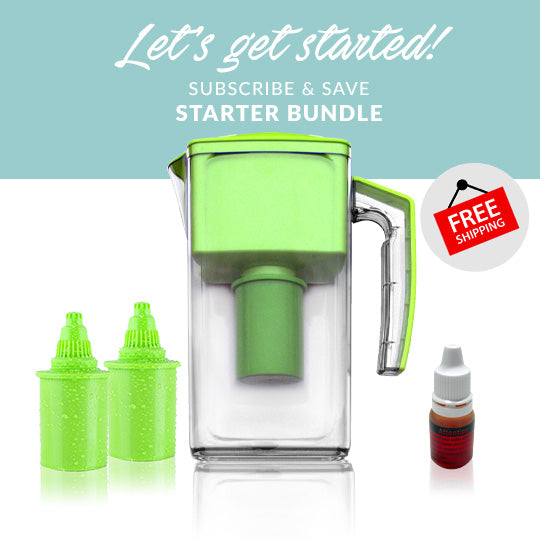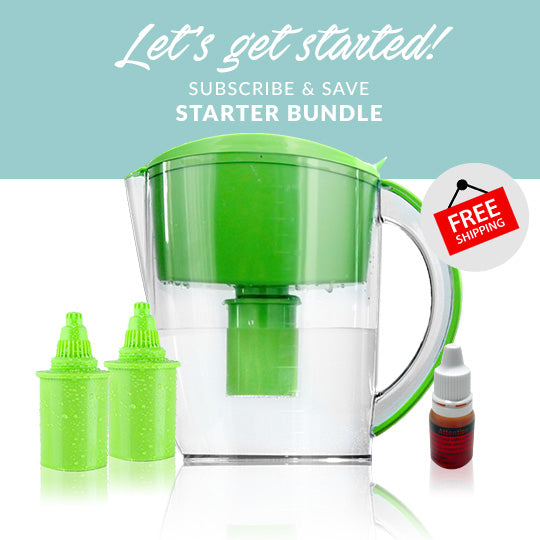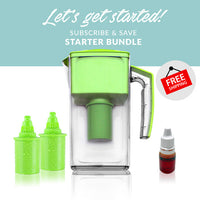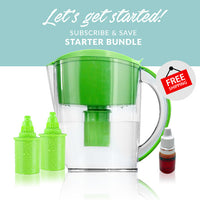 Vitev Alkaline Pitcher - Subscribe & Save - Starter Bundle
Premium Minerals
Alkaline
Antioxidants
Great Tasting

What's Included
1 x Vitev Premium Alkaline Pitcher - includes 1 filter (valued at $54.99+)

2 x extra filters (valued at $19.95 each)
1 x pH drops (valued at $9.99)
FREE shipping (valued at $14.95)
Vitev's premium alkaline water pitcher. It's all in the minerals.
Premium Minerals
– Nearly all water pitchers look the same and have similar construction. What sets Vitev's apart is our mineral formula. We utilize our proprietary mineral recipe to ensure you get a mineral rich, alkaline, antioxidant glass of water with each pour. Handcrafted alkaline water. Premium minerals and premium results.
Alkaline
– Large granular, time-release minerals add magnesium, potassium, and small amounts of natural sodium to complement the calcium found in our tap waters. You get a balanced blend of all 4 alkaline minerals in each glass. The reaction between the water and our mineral formula create pH levels of 9+.
Antioxidant
– Reducing oxidation is vitally important to health. Our mineral filter converts stale, damaging water into fresh, antioxidant water with -ORPs of -300mv or better and adds molecular hydrogen concentrations. You feel the difference in the first glass.
Convenient
– The Slim sized pitcher is made for those who have a lower demand for water. Perfect for 1-2 people and designed to take up as little room as possible in the fridge or on the counter. The reservoir will hold 1.75 liters of finished water. To fill, you simply remove the entire lid and then snap back on when done. It fills quickly and pours easily.
Great tasting
– The filter removes chlorine, tastes and odors while the minerals and fresh antioxidants make the water super easy to drink. It really does taste good and will also improve the flavor of coffees, teas and anything else you make with the water.
---
Does the Fresh for Life auto-ship filter program make sense for me?
Over half of our loyal customers have already switched to become Fresh for Life program members, and for good reason! Save on filters, get free shipping, and never have to worry about when to order your next Fresh filter.

Key Benefits:

Convenience: Never forget about when you need to change your filters again, we'll keep track for you and deliver them at the right time.

Savings: Save up to 25% on each filter order, with free shipping in the US every time.

Lifetime Warranty: Your warranty will be extended for the lifetime of your membership. Normal conditions apply.

No Risk: No contract to sign and absolutely no obligations, cancel at anytime.

---
Slim Alkaline Water Pitcher Features & Benefits
| | |
| --- | --- |
| Alkaline: 9+ pH water | Capacity: 2.5 L (10 cups of 8 oz.) |
| Antioxidants: -200 ORP. 0.3 ppm of H2 | Filter Life: 2 months @ 1 gallon/day |
| Filtration: carbon & ion-exchange resin | Size: 11"H x 4"W x 7"D |
| Electrolytes: Mg, Ca, K, Na | Cost: only $0.11/liter |
| Warranty: 1 year | BPA Free |
---
Big performance, Small Price
Don't spend another dime on expensive electric ionizers or bottled water that builds up wasted bottles & money very quickly. The Vitev Alkaline SLIM Pitcher provides fresh, clean alkaline water at a fraction of the price.
Easy to install and use, the SLIM Pitcher works by simply filling the top reservoir with water and letting it filter through the cartridge. Store it in the fridge, on the counter or even on the go. The filter's all-natural minerals immediately make alkaline, antioxidant water.
Over half the body is made of water. Don't miss out on the easiest and best change you can make for better health! Enhanced hydration is only one step away. Even one glass of Vitev water makes a difference. Get started today!
---
How does the Vitev mineral mix work?
From Acidic and Dead to Alkaline and Fresh
Why Vitev alkaline water?
Water is essential to all life. We use it to stay hydrated, but can it do more for us? Yes! There are proven scientific benefits to alkaline, antioxidant water like that produced by Vitev natural ionizers. Ask us about the science behind Vitev water, or
learn more here
.
---
Warranty & Risk-free Trial
It's important to know that the Vitev SLIM Pitcher is backed by our 100% 1-year warranty. We also offer a 30-day risk free trial. It's never been easier to drink premium alkaline water, and you'll never know what you've been missing without trying!
New Start
I have just received my new Vitev filter jug and although it took several attempts to set up the little window monitor, I can say the taste of the water is exhilarating and a complete experience. I have cancer and recovering from chemo this definitely helps with getting copious fluids now, as I was struggle to drink before.
Best Water Filters on the planet!
Vitev water filters are the best alkaline water filters I have found. The filters do what they are supposed to do and the customer support is amazing, very friendly, knowledgeable staff. I will always buy these water filters!
So far, the bundle is doing its job, and I am satisfied with the results. I look forward to an ongoing subscription to healthier living.
Cover
Other than the tab breaking off the like the alkaline pitcher. I would like a replacement cover.
Hi Dion,
Thank you for your review of the Vitev Family pitcher, however we are so sorry to hear that a part of the cover has broken. Please email us directly at contact@vitev.com, and we will help to resolve the issue right away.
Pitcher starter kit
Great product, great price, fast shipping
Great product
Love this filter. Fantastic customer service as well. Arrived at my house about 5 days after I ordered it, unfortunately the pitcher was broken while in transit. Send some pictures and the next day they had a new one in the mail which arrived two days later. Again great customer service.
thumbs up
Pitcher works very well. I am drinking plenty of alkaline water without having to buy the (plastic) bottles of alk-water. Two thumbs up.
Vitev Alkaline Pitcher - Subscribe & Save - Starter Bundle
GREAT QUALITY. VALUE FOR MONEY
Hi , the product quality is good . As we start consuming the water we will be in a better position to give an exact feedback .
My general feedback is :
1) The customer is totally unaware of the legality and Formalities involved in importing the products. So as a formality they should be informed of the process and the price .
2) The cost for the pitcher is reasonable. The shipment and import duty itself costed us 115$ in totality . That's twice the amount of the pitcher itself .
3) The counter on the lid of the jar is not working. We tried long pressing the start button several times but it didn't initiate.
4) We tested the PH levels and are appropriate. No worries with that.
5) The packing which we received from customs was re packed it seems. That might be the protocol and the internal boxes were also opened.
Good value for great water
I am thankful that a friend told me about alkalized water and pointed me to Vitev as a good source for it. The water truly does taste great. The pitcher is a perfect shape and size for handling and storing. The pitcher and the filters seem to be well made because nothing feels flimsy about them. The customer service is refreshingly friendly. I called to ask lots of questions about alkaline water, since I had never heard of such a thing before, and about their products since I felt a little overwhelmed by the choices. While on the phone, I never felt rushed by the mad I was talking to for above 15 minutes. I hung up feeling better educated about water and truly confident in Vitev.
Two things that could be improved about the family pitcher:
1. the top could stay open when it's time to fill the reservoir. I have small, arthritic hands, and since I actually fill the reservoir from another pitcher, it's very hard for me to hold the pitcher above the Vitev pitcher while also holding open the top of the reservoir.
2. Perhaps the size of the pitcher should not be advertised as 3.5 liters, but rather as 2.5 liters. Physics will not allow the volume of water in the pitcher to actually reach 3.5 liters because of how deep the reservoir goes into the pitcher. If the reservoir is going to empty completely, there will never be more than 2.5 liters of alkalized water in the pitcher. I feel like it was a little deceptive to advertise a 3.5 liter pitcher when it is not really possible for it to hold that much as long as the reservoir remains in place.