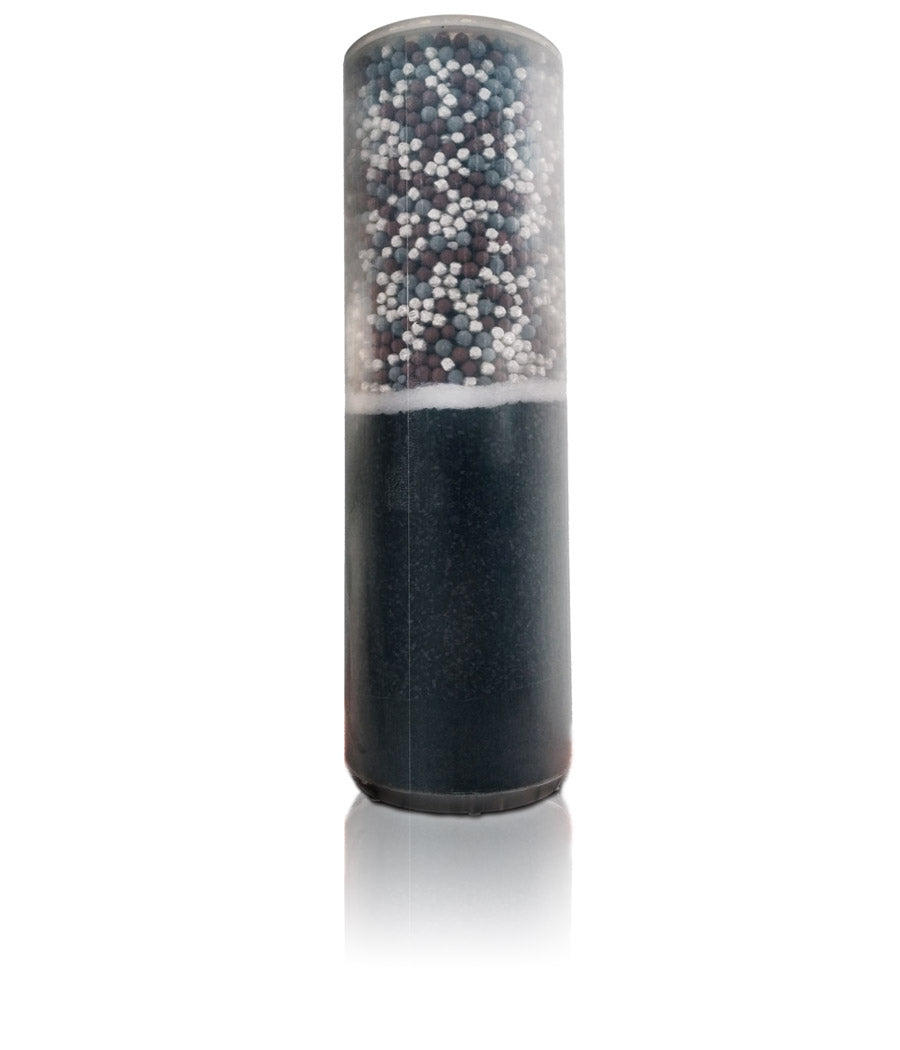 The filter used for both the FLO provides a unique combination of media that offers both filtration and natural alkalizing and ionization capabilities. The media is packaged in a clear casing so you can see the exact composition of each filter.
The bottom half of the filter is upgraded KDF55 and a special wood carbon. It removes chlorine, chloramines, volatile organic compounds, chemical toxins, tastes, odors and heavy metals like lead and mercury. The carbon quality is really what sets this filter apart from other carbon based filters. Chloramines, which are becoming more popular across the US as a replacement for chlorine, are incredibly difficult to remove and standard activated carbons cannot eliminate it.
After cleaning the water, it's time to dress it up with our unique Vitev Mix. A proprietary blend of minerals and ceramics that create the pH and ionizing properties. We affectionately call the blend of reds, silvers and greys "pirate's jewelry". 99.9% pure Magnesium, infrared ceramics and tourmaline all create different benefits. Some react with the water, some dissolve into the water and others impart specific energy frequencies the water maintains.
Life Span: 6 months with average use. (2 gallons per day)
pH Performance: 8.5 to 9.5
-ORP Range: -150 to -300
Made in America
---
Fresh for Life Auto-Ship Program
We created the
Fresh for Life Auto-Ship Program
so you never have to worry about when you need to change your next filter - we'll manage all of that for you. You'll receive brand new filters at your door at the perfect time while saving money and much more.
| | | | |
| --- | --- | --- | --- |
| Never forget about when you need to change your filters again, we'll keep track for you and deliver them at the right time. | Save up to 25% on filter purchases and lock in prices. | Your warranty will be extended for the lifetime of your membership. Normal conditions apply. | No contract to sign and absolutely no obligations, cancel at anytime. |
Outstanding !
I have been personally using the flo filter for the past 8 years and cannot describe in words the benefits that I have felt in my body since drinking this water. I drink exclusively from the flo filter be it a smoothie, hot tea, or just a glass of water. All I can say is that my joints felt more free and loose after drinking this water 3 weeks. So naturally, I haven't stopped
Makes my water taste great!
Great water
We love the alkaline water l use it for tea my wife for coffee and cooking even my dog loves it.
Great support
Stings a little to pay customs and another cost for shipment to Europe.
Friendly service & quick shipping!
Always a pleasure doing business with this company! Jamie always provides outstanding customer service and the products we order, always get processed and arrive quickly! We have been using this company and many of their water filtering products for years at our chiropractic office!