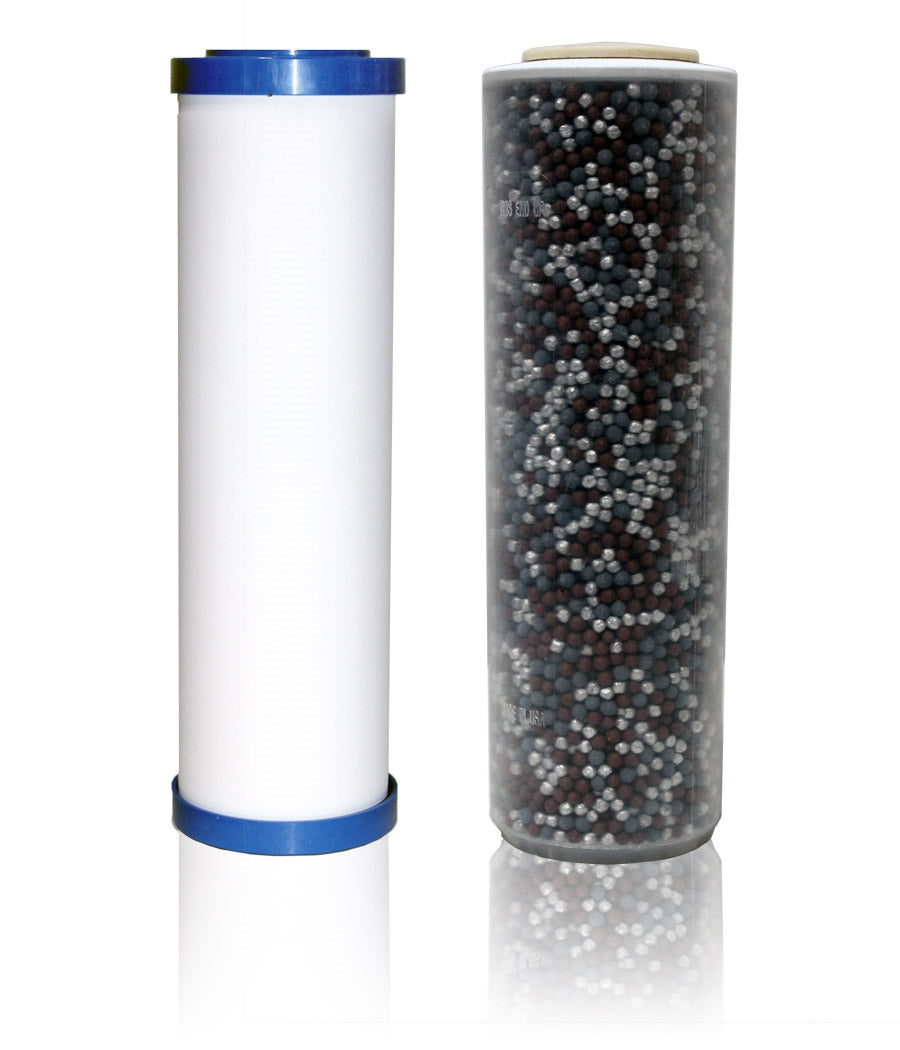 Set includes (1) new ceramic cartridge for the first Stage and (1) new mineral cartridge for Stage 2 as well as new scrubbing pad. Cartridges replaced annually provided the ceramic filter is scrubbed regularly to maintain performance and prevent clogging. In hard water areas or places with poor quality water, monthly scrubbing is recommended.
Filtration Performance:
> 0.5 micron absolute
> 100% removal of cysts
> 99.9999% pathogenic bacteria reduction
> 99% Chloramine reduction
> 99% Chlorine reduction
> 99% Lead reduction
> 99% Herbicides and Pesticides reduction
> 99% Glyphosate reduction
> 98% Pharmaceutical compounds
> 98% VOC's reduction
> 98% Heavy Metals reduction
> 85% Fluoride reduction - All types
Life Span: 12 months with average use. (2 gallons per day)
pH Performance: 8.5 to 9.5
-ORP Range: -300 to -500

Made in America
Love the filter
Excellent purchase. You can't put a price on clean water. No complaints at all.
Great service and products
I have been using Vitev filters for over five years. They saved me from having hard, bitter, acid water from my well. Their customer service is also amazing when I have questions or concerns.
Great Product!!
We love our mineralizer that gives us natural alkaline water right from the tap! Thanks, Vitev
GREAT PRODUCT!
Vitev Water Filter system is great! Been using it for years!
Almost perfect
I received the replacement filters right on time - congratulations! Ultimately, I installed them and they're working as expected. Unfortunately I had a very difficult time getting on of the canisters off. I tried to use the plastic wrench that originally came with the System. Unfortunately, that canister was installed so tightly that the plastic wrench kept jumping off the ribs. I pushed it up as high as I could get it (to tighten it) but it still kept jumping the ribs. Fortunately I have a belt wrench. I put it on the canister and with tremendous effort, I finally got the canister loose. I have no idea why it was that tight. It's my understanding that they should be only slightly tighter than hand tight.
I'd like to make another suggestion... Since I'm on this subscription thing, I only see these canisters once a year. It would be really helpful if you guys would just drop a one sheet piece of paper in the box with simple instructions reminding us what we have to do to change filters. I looked on your website but couldn't find a filter replacement video there. I finally found some guy on youtube. It wasn't the correct model, but it was close enough.
Hi TJ,
Thank you for posting such a thoughtfully detailed review. We really appreciate your feedback on the filter replacement, and we hope you are keeping well-hydrated with your Vitev PLUS water!
However, we are sorry to hear how difficult it was to remove one of the housings. The housing can naturally tighten between filter changes due to the pressure inside, though it was on too tight in the first place if it could not be unscrewed with the wrench provided. While we are thrilled to hear of your creative solution, we sincerely apologize for the inconvenience. As you alluded to, please be sure not to over-tighten the housing after changing the filters. Even hand-tightening is enough to prevent any leaking whatsoever.
We also appreciate your suggestion about including filter-change instructions with each replacement. If you do not still have your hard-copy PLUS Guide, you can find a PDF version within the "Support" tab on the PLUS web-page in the meantime with instructions.
Thanks again for your review and support, TJ! We are always here for you if there is anything you need along the way.
Vitev Customer Care
Works well
Easy to change and looks work perfect. Two cylinders, each one looks for a specific purpose. I like it, thank you for your high quality
Great Customer Service and Products!
Vitev customer service really works hard to get the best solution for your particular needs. They are thoughtful, comprehensive and helpful. Really made for an excellent experience. The filter and the hydrogen water it produces is fantastic. My family and I are really enjoying it.
FLO+
I purchased a mineral cartridge to add to my current undersink filter system and I couldn't be happier. The water tastes great and the pH tested 9+. Before the cartridge the pH was only 6.8.