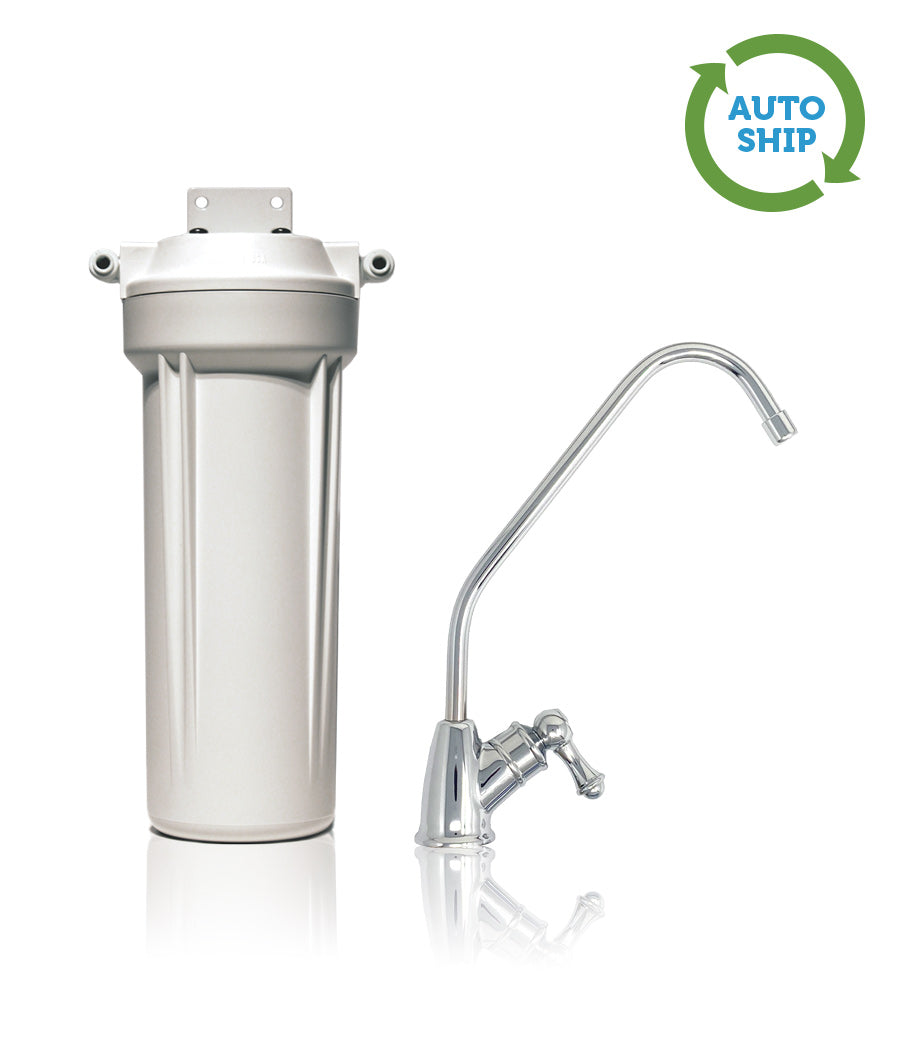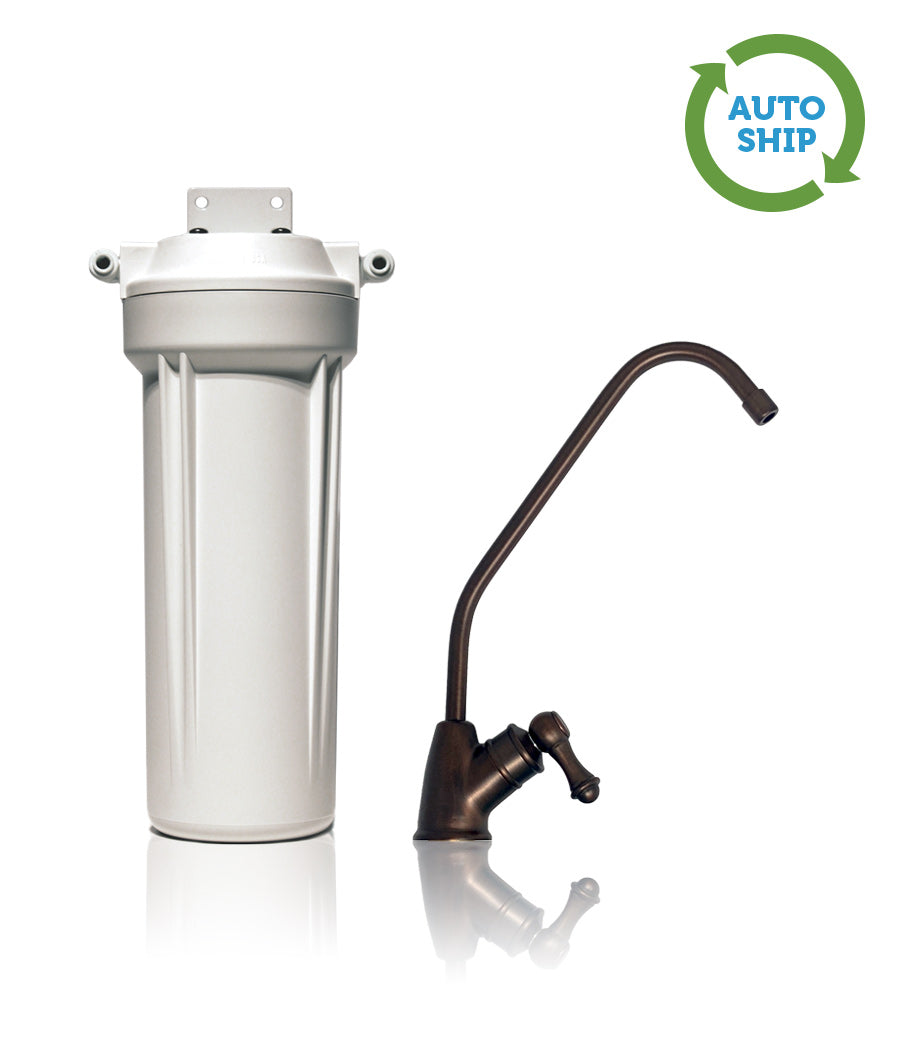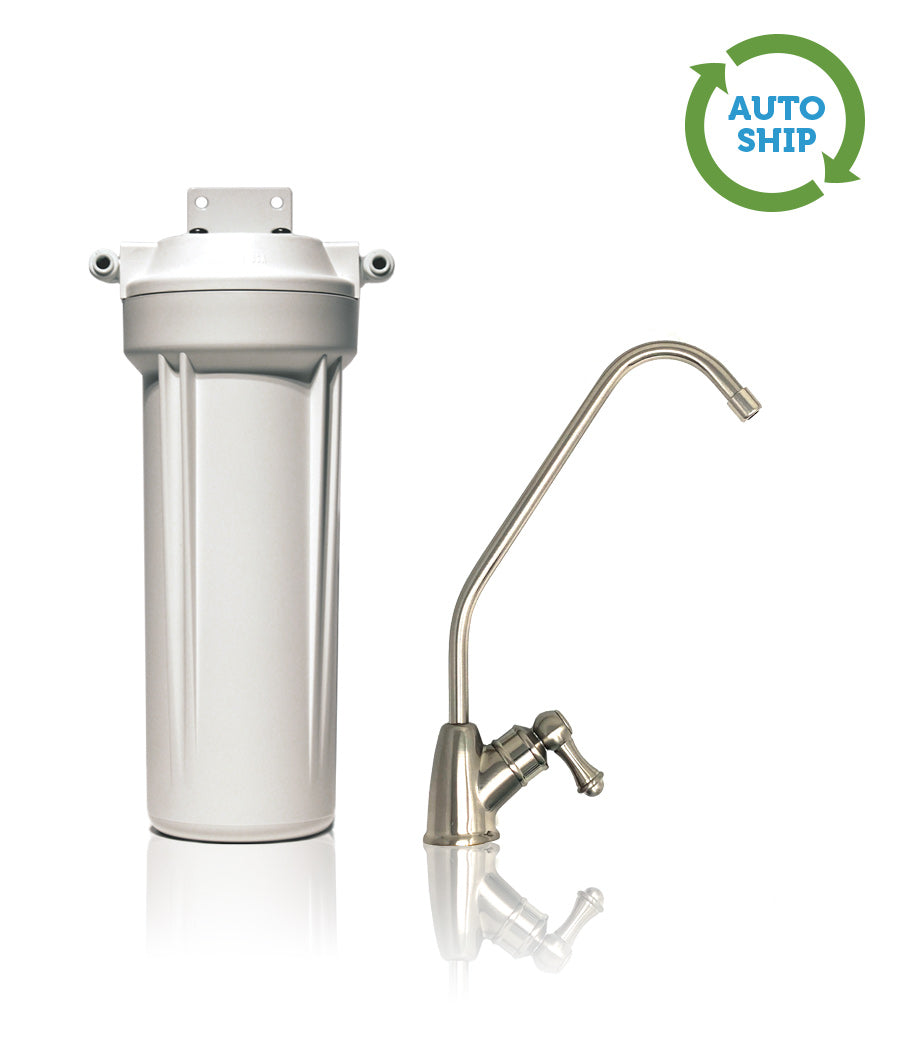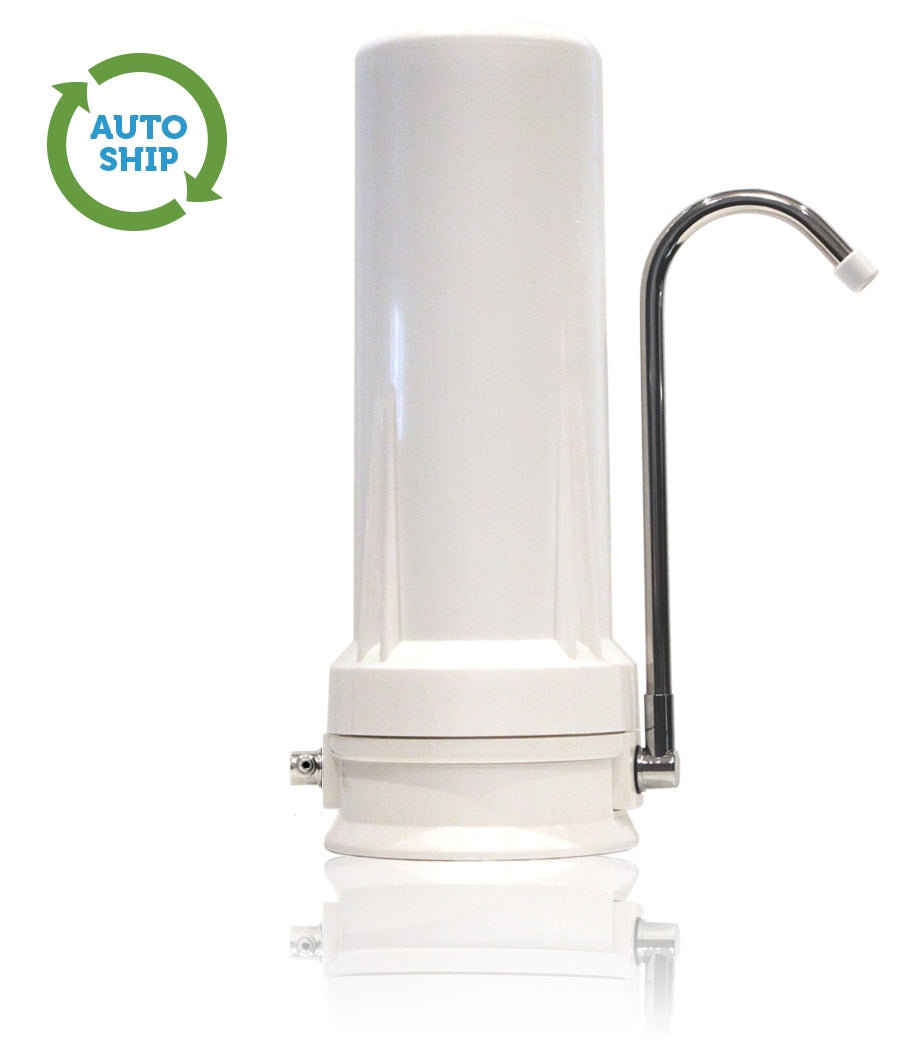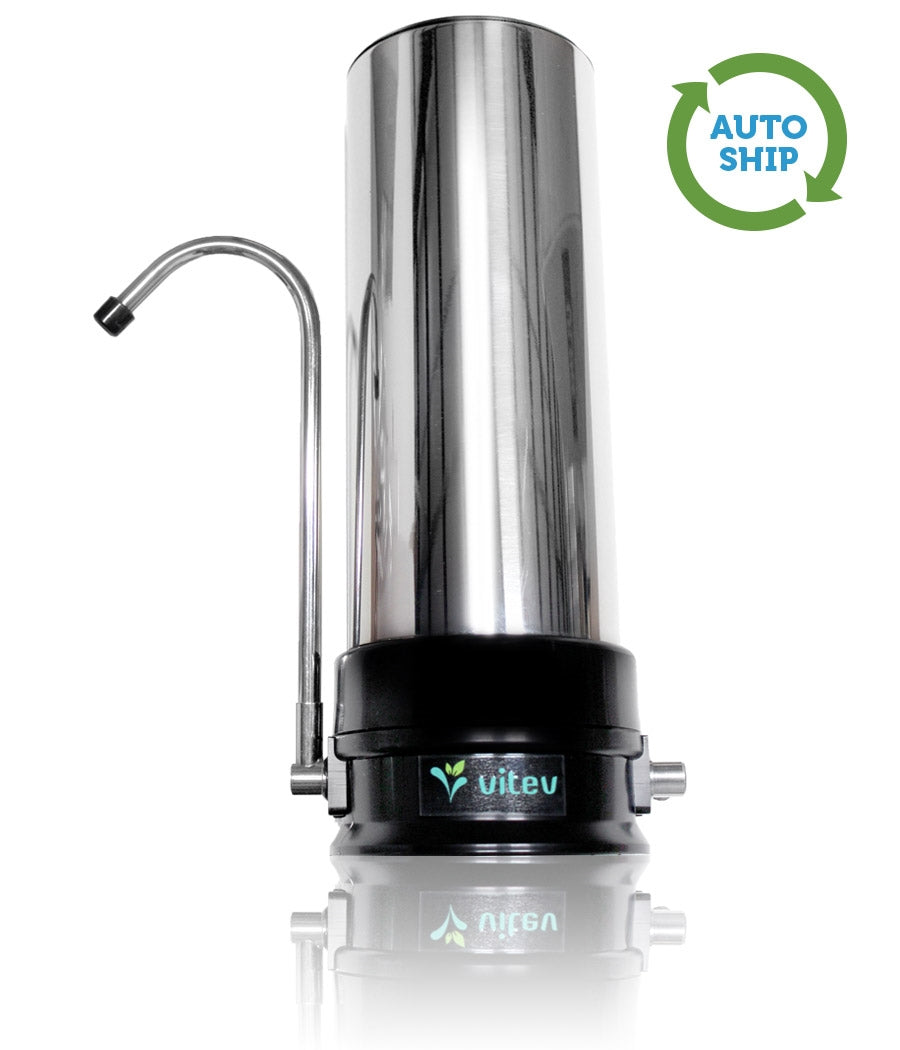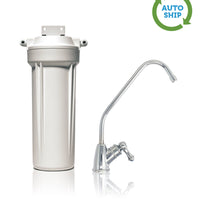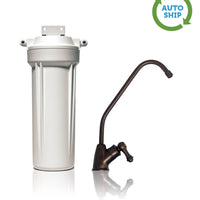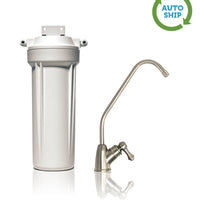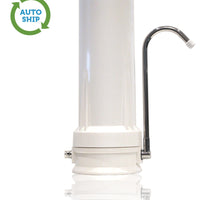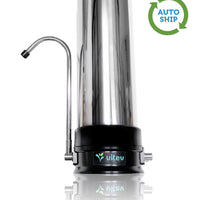 FLO - Fresh for Life Program
Transforms tap water instantly into a fresh flow of alkaline water
Filters chlorine, chloramine, and other common contaminants
Boosts water with minerals, electrolytes and antioxidants
Subscribe & Save
Save $20 on the FLO | Save $30 on future filters | Filters ship FREE every 6 months

Does the Fresh for Life auto-ship filter program make sense for me?
Over half of our loyal customers have already switched to become Fresh for Life program members, and for good reason! Save on filters, get free shipping, and never have to worry about when to order your next Fresh filter.
Click here
to learn how you can save on the Flo as an exclusive Fresh for Life member.
Key Benefits:
Convenience:
Never forget about a filter change again. We keep track, remind you before every shipment, and deliver them at the right time.
Savings:
Save 20% on each replacement filter with free US shipping every time.
Lifetime Warranty:
Your warranty is extended indefinitely for the lifetime of your membership. Normal conditions apply.
Risk-free:
No contract to sign and absolutely no obligations. Cancel or adjust a subscription at any time.
---
Features & Benefits
| | |
| --- | --- |
| Alkaline: 8.5 - 9.5 pH | Filter Life: 6 months @ 2 gallon/day |
| Antioxidants: -300 ORP, 0.5 ppm H2 | Size: 12"H x 4.5" W x 4.5" D (Countertop Option: 12"H x 6" W x 4.5" D) |
| Filtration: Nuchar wood carbon & KDF | Warranty: 3 years |
| Electrolytes: Mg, Ca, K, Na | Maintenance:No cleaning; No waste water |
| Cost: Only $0.08/liter | Made in USA: BPA Free |
Advanced Performance, Small price
Don't spend another dime on expensive electric ionizers or bottled water. The Vitev FLO is an all-natural ionizer that matches the filtration and ionization performance of electric systems, but at a fraction of the price!
Easy to install and use, the countertop FLO simply connects to the cold water supply under the sink, and comes with a vented faucet included. Countertop Option: connects to standard sink faucets, allowing you to switch seamlessly between tap and alkaline water flow.
The FLO filter uses top-of-the-line wood carbon and KDF to filter a wide range of common source water contaminants, including chlorine, chloramine, heavy metals, sediment, VOCs, and more. After filtering the water, the FLO's all-natural minerals immediately create highly alkaline, antioxidant water.
Over half the body is water. Don't miss out on the easiest and best change you can make for better health! Enhanced hydration is only one step away. Even one glass of Vitev water makes a difference. Get started today!
Countertop Option
The FLO countertop is made to connect to a standard faucet. One that doesn't pull out or have a spray function. If you have one of those wand style faucets, all is not lost. We also offer a special inline diverter valve that works with most wand faucets. It will connect between the hose and the wand body.
You can find the diverter
HERE
and this video will give more information on how the connection works.
---
How we Compare
| | | | |
| --- | --- | --- | --- |
|   | | | |
|   | FLO | Bottled Water | Electric Water Ionizers |
| Drinking water pH  | 8.0 - 9.5  | 8.0 - 9.5  | 7.0 - 9.5  |
| ORP  | -200 to -400  | None, it's an oxidant  | +500 to -700 (requires chemical additive)  |
| Filtration  | Advanced wood carbon  | Varies  | Basic carbon  |
| H2 Concentration  | 0.3 - 0.8 ppm  | None  | 0.3 - 0.8 ppm  |
| Dimensions  | 13x5x5  | 16x11x9 (case)  | 12x12x5  |
| Filter Life  | 6 months  | NA  | 6 months  |
| Filter Cost  | $99 | NA  | $89-149  |
| Maintenance  | None required  | NA  | Frequent and Costly  |
| Works with all source waters  | Yes  | NA  | No  |
| Wasted Water  | None  | NA  | Yes, a lot actually  |
| Price  | From $199  | $2-3 per bottle  | $2500-$6000  |
| Cost to user per liter  | $0.08  | $1.00 - $1.50  | $0.50+  |
| Direct to consumer  | Yes  | No  | No  |
| Return Policy  | 30-days, no hassle | None | Depends on MLM rep |
Why Vitev alkaline water?
Water is essential to all life. We use it to stay hydrated, but can it do more for us? Yes! There are proven scientific benefits to alkaline, antioxidant water like that produced by Vitev natural ionizers. Ask us about the science behind Vitev water, or
learn more here
.
Warranty & Risk-free Trial
It's important to know that the Vitev FLO is backed by our 100% 3-year warranty. We also offer a 30-day risk free trial. It's never been easier to drink premium alkaline water, and you'll never know what you've been missing without trying!
Support
Download the
FLO Guide
Download the
FLO Countertop Guide
Countertop Installation
Excellent product and service!
Had some challenges with the device and customer service was extraordinary with finding a solution. Water is wonderful
Awesome product, stellar service
Amazing water, speedy and kind service. Can't beat that!
Great product, I have one in each of my homes and a very satisfied ! Plus I have shared the unit I purchased with a neighbor? Who knows what will happen! Jim
FLO Water filter review
Really pleased with it. The water does taste sweet. Not as in sugar but lovely and refreshing. And kowing that it is doing good inside is all the better. Thank you.
What a difference!
Vitev Flo has radically changed the way my family drinks water. My mother who has a hard time drinking water, tap or filtered or bottled, can't get enough of what comes out of the Flo! We all just can't stop drinking this refreshing, smooth, delicious water. I've tested it as soon as I installed it with ph drops and nyc tap water turned green, while Flo turned blue. Whoever comes over and tastes this water loves it and asks where to get it. 100% satisfied. Thank you!
Flo-Fresh for life
Great product I love the water. Customer service is top notch.
Happy Long Term Customer
I've been a customer of Vitev for 5 years. I purchase a filter every year. The water is delicious.
I had an issue with once with the water dispenser, and they replaced it hassle free
water filter
I am very happy with my purchase. Water taste great, and cost is good. I have told couple friends of mine about this filter system, they purchased it also. Thanks for great product!
new kind of water...
Customer service gets 5 stars so far. Excellent over the phone and delivery was prompt and well packaged.
I'm holding my verdict on the water. Previous comments about the water being more 'wet' is certainly true. Our cooking time for steel cut oats is about 1/3 less with this water. The same is true of rice.
However, I haven't noticed marked improvements in energy levels or a feeling a hydration from drinking the water. We might need some more months using to make a conclusion.
Review of FLO unit.
I received the unit in a timely manner.
I was concerned that it would be difficult to attach to my faucet; however, I went to the hardware store and with help found a piece to adapt the fitting to my faucet. In reality it worked out easily.
I am enjoying the fresh water that I am getting through the FLO unit. Thank you!