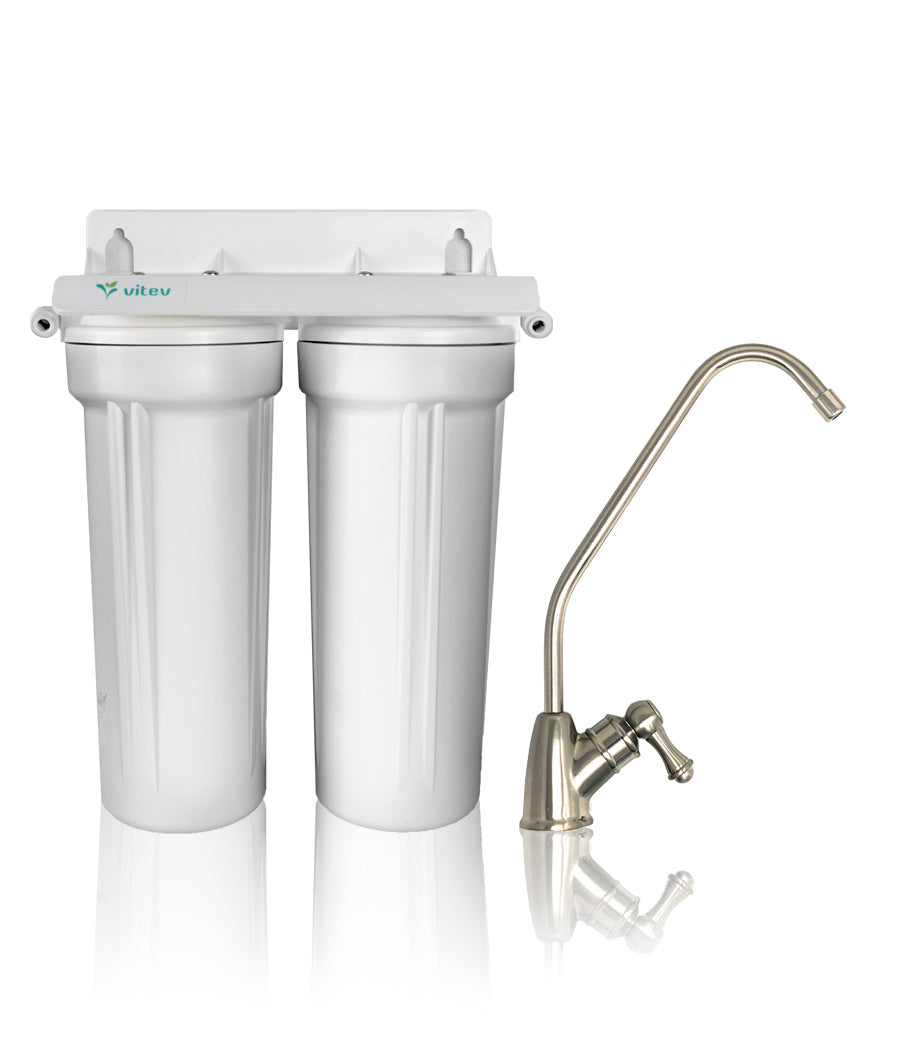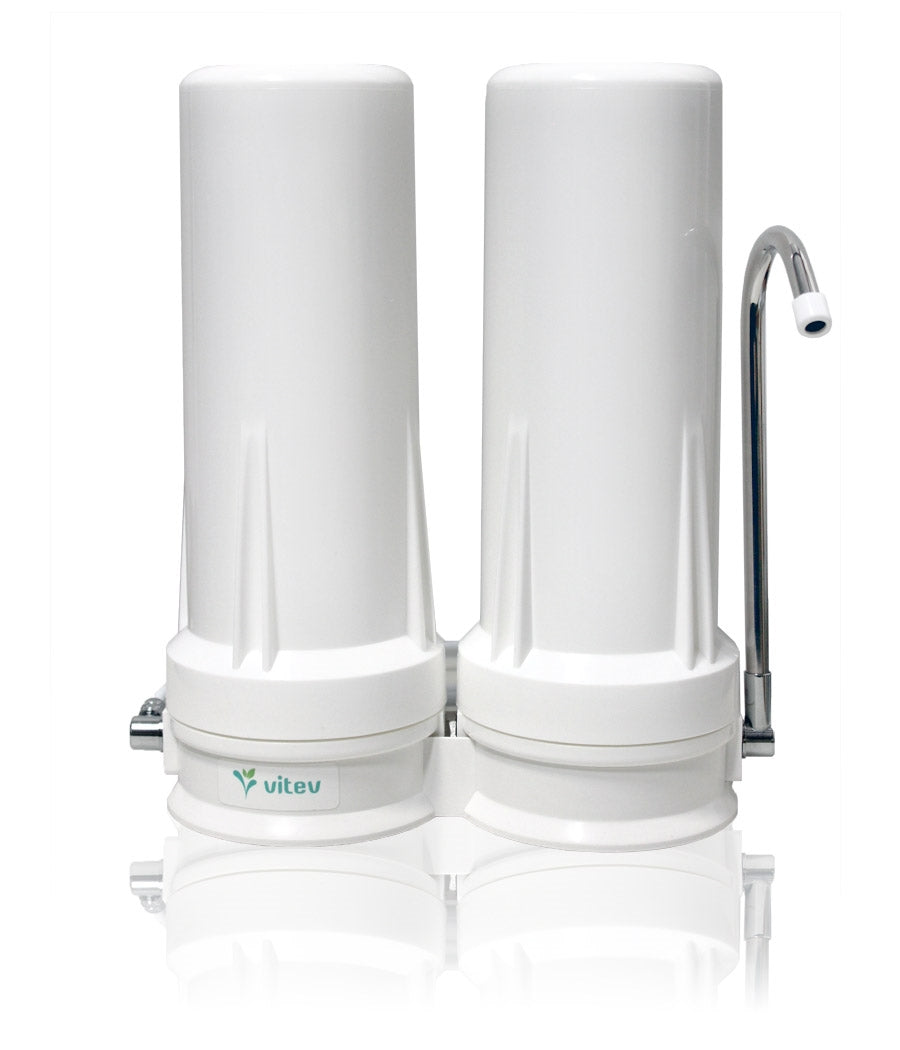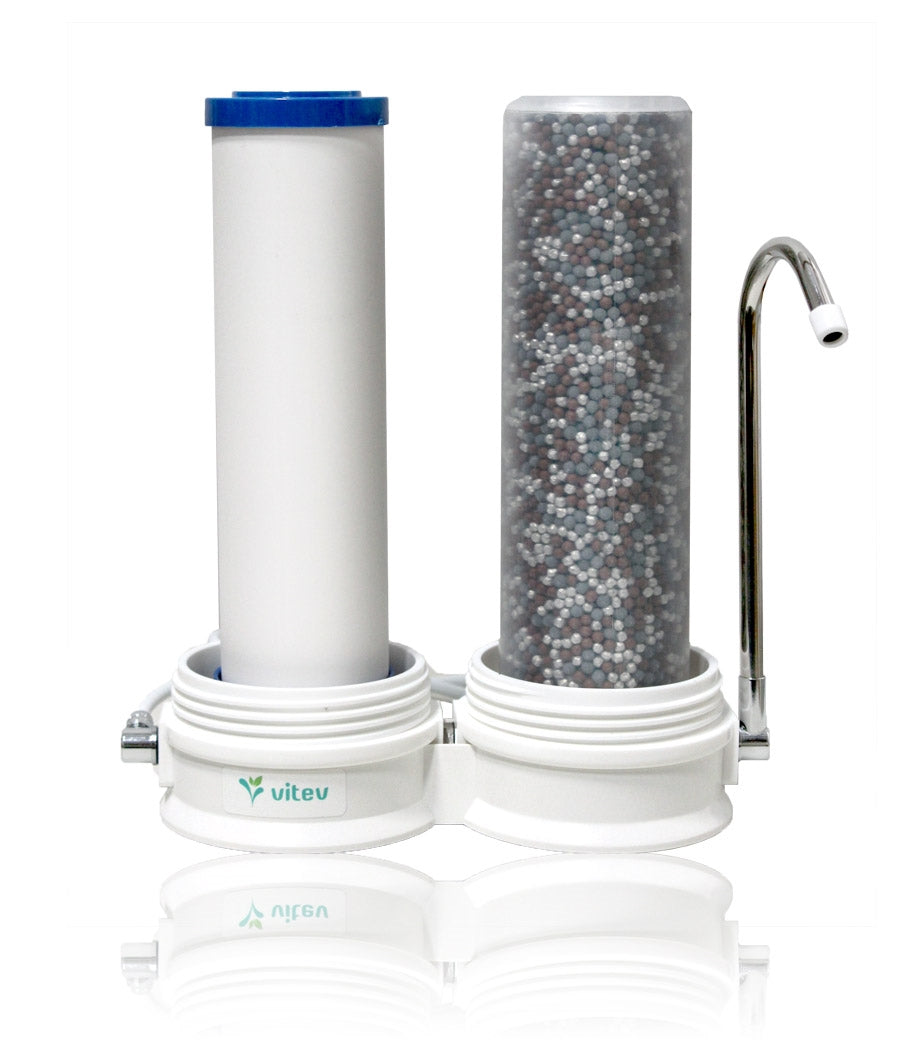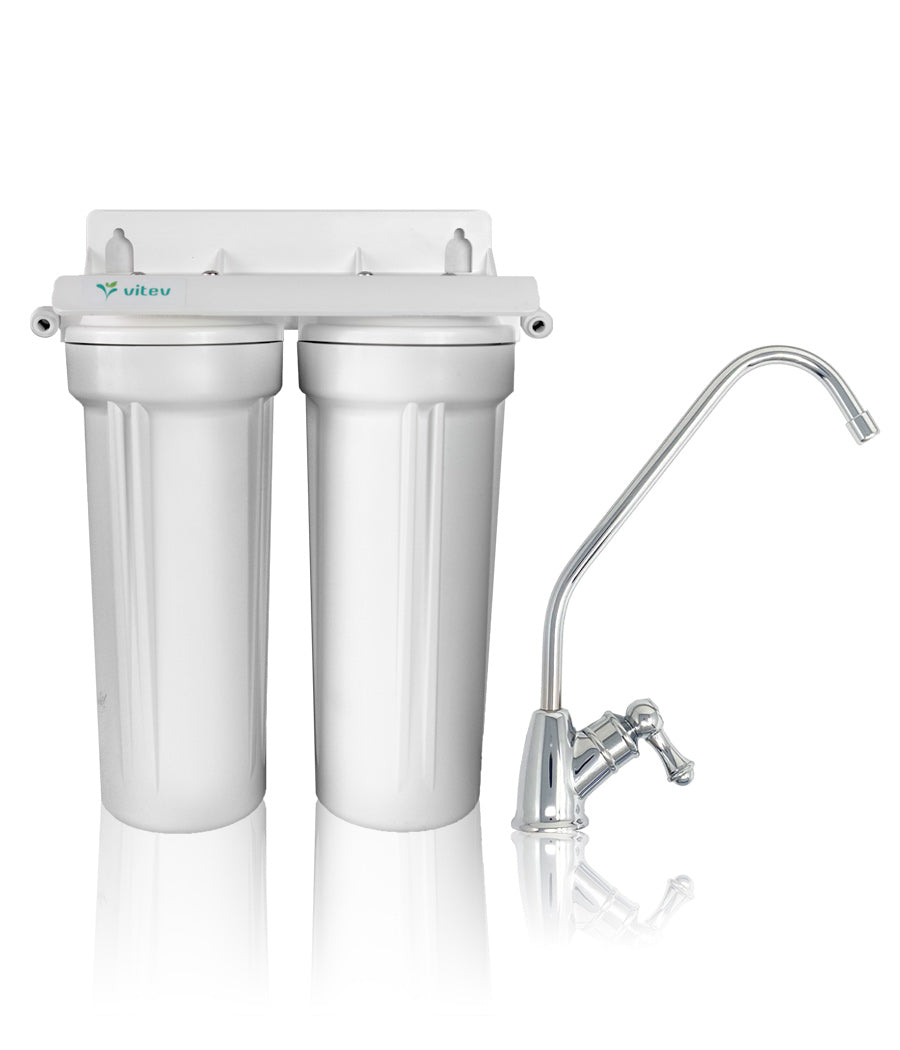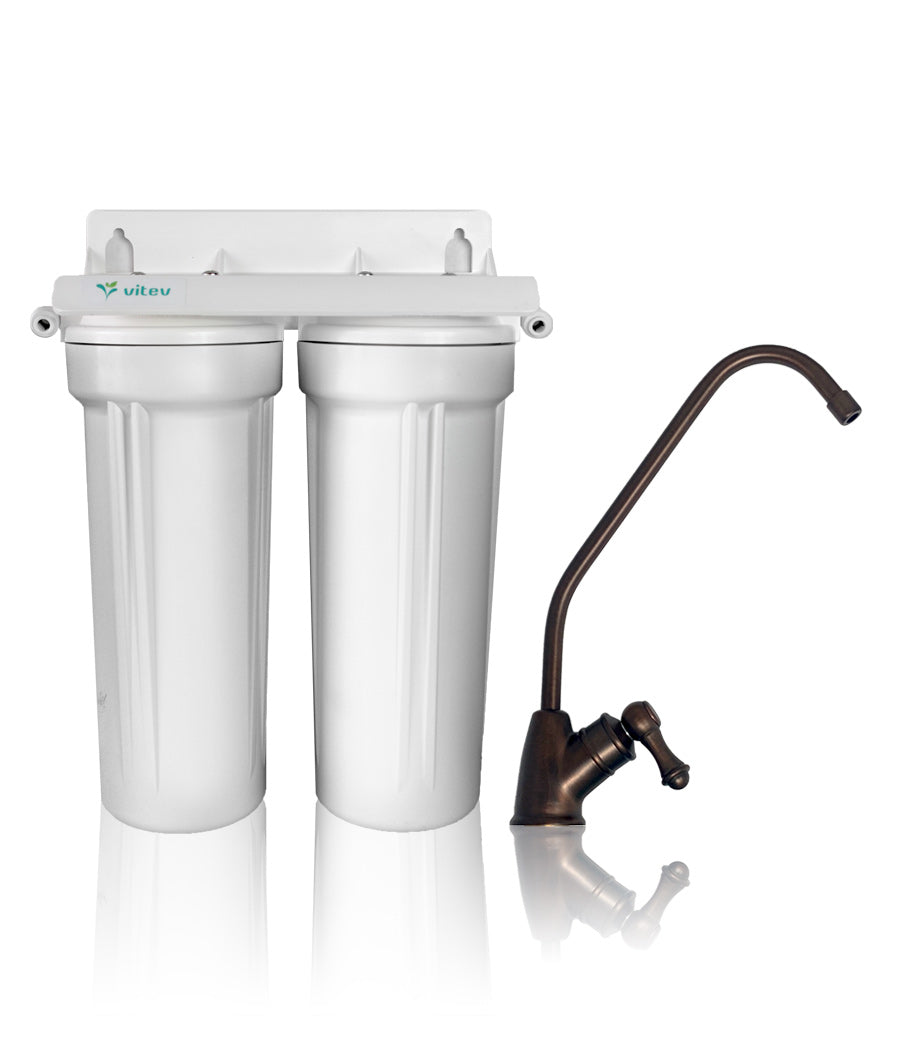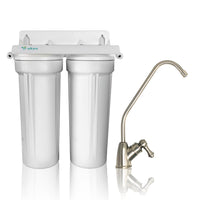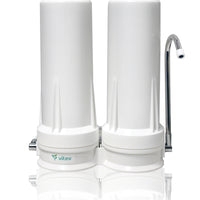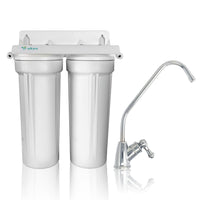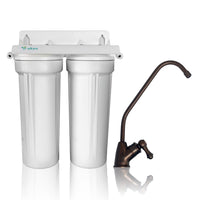 PLUS Alkaline Water Filter
Alkaline Water Powerhouse Ionizer in either Under-sink or Counter-top options. Transforms tap water instantly into fresh alkaline water. Filters fluoride, lead, chlorine & many other contaminants. Boosts water with minerals, antioxidants and electrolytes.
#1 Recommended system. Filters 200+ contaminants including heavy metals, VOCs, bacteria, pharmaceutical, pesticide, agricultural and chemical toxins. See the full list below. Adds natural minerals to create alkaline, antioxidant and electrolyte benefits.  
Choose from convenient countertop or undersink options.
Subscribe & Save
Save $50 on the PLUS | Save $30 on future filters | Filters ship FREE every 12 months
From $449

Features & Benefits
| | |
| --- | --- |
| Alkaline: 9.5 pH | Filter Life: 12 months @ 2 gallon/day |
| Antioxidants: -300 to -500 ORP, 0.7+ ppm H2 | Size: 13" H x 11" W x 5" D (Countertop: 12"H x 10.5" W x 4.5" D) |
| Filtration: next-gen ceramic | Warranty: 3 years |
| Electrolytes: Mg, Ca, K, Na | Flow rate: 2+ L/min. No waste water |
| Cost: Only $0.09/liter | Made in USA: BPA Free |
PLUS Alkaline Water Powerhouse... the highlights
Don't spend another dime on overpriced, underperforming electric ionizers. The Vitev PLUS is an all-natural ionizer that surpasses the filtration and ionization performance of electric systems, but at a fraction of the price! The PLUS contains 1 advanced ceramic & carbon filtration cartridge, and 1 mineral cartridge filled with our proprietary mineral mix. We have spent years perfecting the mineral mix, allowing the PLUS to produce consistently high pH, -ORP & H2 water for the filter's entire 1 year lifespan.
Easy to install and use, the PLUS simply connects to the cold water supply under the sink, and comes with a vented faucet included. The PLUS Countertop option simply connects to standard sink faucets, allowing you to switch seamlessly between tap & PLUS water.
Our preferred and most recommended system. Why? Because it offers unparalleled filtration, alkaline and antioxidant protection. For 98% of people*, the PLUS's advanced ceramic and catalytic carbon cartridge will effectively eliminate the spectrum of toxins in their home's water. From simple sediment, odors and taste to more complex toxins like chloramine, heavy metals (ie lead) and agricultural chemicals. As an added benefit, the ceramic lets the good minerals we need from our water through. Things like calcium and naturally occurring sodium.
When you pair the filter with the complimentary mineral cartridge filled with our proprietary mineral mix, you get a water that is incredibly clean with high pH, alkalinity, antioxidant and free hydrogen levels for the entire 1 year lifespan of the filters.
Easy to install and use, the PLUS simply connects to your cold water supply under the sink and comes with a special vented faucet included. The PLUS Countertop option connects to any standard sink faucet with a diverter allowing you to switch seamlessly between tap and PLUS water.
(*Not recommended if you have a water softener because the sodium ions will pass through the filter. Softeners require a reverse osmosis system like our MAXX)
---
Mineralization:
The Vitev Mineral Mix used in the PLUS is formulated especially for tap water. Because there is so much naturally occurring calcium in our tap waters, we leave that ingredient out and use more Magnesium. Calcium and Magnesium work best when consumed together, so our formula helps balance that ratio out. We also utilize more energetic minerals like tourmaline and far-infrared ceramics to impact a softness and better taste to the water. They are what make the water feel different when you drink it. They are also combined with some natural potassium and sodium to round out the 4 main alkaline minerals we need.
99.9% pure metallic/elemental Magnesium
Adds this vital mineral to the water and also reacts with the water to create the antioxidant/ionizing benefits. (more on this later)
Advanced Ceramic
Hands down the most effective way to eliminate a huge spectrum of basic to advanced toxins all while letting the good minerals through. See complete list in chart below.
Infrared ceramics and tourmaline
They help soften the surface tension, improve taste and increase drinkability. It's really hard to explain, but when we removed these 2 from the blend, the water just didn't taste or feel as good.
State-of-the-art Filtration
The PLUS ceramic filter is the most advanced carbon-based filter available on the market today. Ceramic filtration has been around for hundreds of years and proven its effectiveness with biological toxins like bacteria, but the PLUS filter has an added dimension to eliminate chemical toxins. It is designed to provide the highest quality drinking water possible from a single-stage block filter. The filter is a matrix of activated carbon in block form as the core and a next-gen ceramic outer layer made with proprietary minerals, structurally bound with polymers into a highly absorbent block filter.
It is the first and only carbon-based filter of its kind to consistently & effectively remove fluoride from source water. Until now, only reverse osmosis systems and water distillers were capable of quality fluoride filtration. The PLUS approaches that elite level of filtration, providing far cleaner water than any other conventional filtration method.
Here are some highlights of the most common toxins, if you want to see all of the 200+, the full test is
HERE
.
| | |
| --- | --- |
| > 0.5 micron absolute | > 99% Herbicides and Pesticides reduction |
| > 100% removal of cysts | > 99% Glyphosate reduction |
| > 99.9999% pathogenic bacteria reduction | > 98% Pharmaceutical compounds |
| > 99% Chloramine reduction | > 98% VOC's reduction |
| > 99% Chlorine reduction | > 98%+ Heavy Metals reduction |
| > 99% Lead reduction | > 97% Fluoride reduction - All types |
| | > 96%+ Pharmaceutical drug reduction |
The PLUS also provides significant reduction of: Arsenic 3 & Arsenic 5, Chromium 3 & Chromium 6, and many more contaminants.

Over half the body is water. Don't miss out on the easiest and best change you can make for better health! Enhanced hydration is only one step away. Even one glass of Vitev water makes a difference. Get started today!
Countertop Option
The PLUS Countertop is made to connect to a standard faucet. One that doesn't pull out or have a spray function. If you have one of those wand style faucets, all is not lost. We also offer a special inline diverter valve that works with most wand faucets. It will connect between the hose and the wand body.
You can find the diverter
HERE
and this video will give more information on how the connection works.
How we Compare
| | | | |
| --- | --- | --- | --- |
| | | | |
| | PLUS | Basic Sediment/Carbon Filter | Berkey |
| Added minerals | | | |
| Antioxidants | | | |
| Dissolved H2 | | | |
| Connects to water supply | | | |
| Counter and Undersink options | | | |
| Advanced Filtration* | | | |
| Removes Fluoride | | Additional Filter Required | Additional Filter Required |
| pH level | 8.5 - 9.5 | 7.0 - 7.5 | 7.0 - 7.5 |
| Dimension - Countertop (in) | 12x10.5x4.5 | Varies | 8.5x21 - 11x31 |
| Dimension - Undersink (in) | 13x11x5 | Varies | Not Available |
| Price | $449-$529 | $60-250 | $405-528 |
| Filter Life | 12 months | 6-12 months | 12 months |
| Annual Filter Cost | $149 | $50-200 | $149-175 |
| Gallons produced per hour | 15-30 | 15-30 | 4-8 |
*200+ contaminants removed
Does the Fresh for Life auto-ship filter program make sense for me?
Over half of our loyal customers have already switched to become Fresh for Life program members, and for good reason! Save on filters, get free shipping, and never have to worry about when to order your next Fresh filter.
Click here
to learn how you can save on the PLUS as an exclusive Fresh for Life member.
Key Benefits:
Convenience:
Never forget about a filter change again. We keep track, remind you before every shipment, and deliver them at the right time.
Savings:
Save 20% on each replacement filter with free US shipping every time.
Lifetime Warranty:
Your warranty is extended indefinitely for the lifetime of your membership. Normal conditions apply.
Risk-free:
No contract to sign and absolutely no obligations. Cancel or adjust a subscription at any time.
---
Why Vitev alkaline water?
Water is essential to all life. We use it to stay hydrated, but can it do more for us? Yes! There are proven scientific benefits to alkaline, antioxidant water like that produced by Vitev natural ionizers. Ask us about the science behind Vitev water, or
learn more here
.
↑ back to top
Warranty & Risk-free Trial
It's important to know that the Vitev PLUS is backed by our 100% 3-year warranty. We also offer a 30-day risk free trial. It's never been easier to drink premium alkaline water, and you'll never know what you've been missing without trying!
Support
Download the
PLUS Guide
Download the
PLUS Countertop Guide
PLUS Alkaline Water Filter
PLUS Alkaline Water Filter
FLO+
The FLO+ is hands down the best water filter i've ever used, the ORP level and PH is the same as the regular FLO tho but on FLO+ the mineral mix lasts for a much longer time.
But the filtration is on a whole nother level, i would honestly pay twice as much as the regular price for the performance of the FLO+.
The installing is very easy and it is also BPA-free which makes the product great, very easy to clean as well.
I tested my water yesterday and it was somewhere between PH 9,5-10, Vitev promised a PH level around 8,5-10 and i couldnt be more satisfied.
I will never go back to regular tap water, the water is so soft and the nasty chloramine is gone.
Cant wait to try MAXX, if the FLO+ is this good then i can only imagine how good the MAXX are.
Thank you Vitev for not just a great product but for a great customer service as well, one of the most honest and helpful companies ive ever ordered from.
Yummy water
Love having water that is delicious and purified with excellent technology.
We love it...
We love the UNDR+ ...Thank you!!!! So easy to install as well.
Flo Plus
Nice to have a counter top unit that has natural minerals and alkaline water instead of buying an expensive alkaline water machine. So for the price and what it does is a plus for me.
FLO+
The water tastes great. Looking forward to only having to replace once a year.
I love it!
I set up the Flo+ and tried it out last night. I love it! The water tastes great and feels very clean. I was also impressed my ph drops showed a 9.5! Thank you so much for all of your help. I'm a customer for life :)